By Natalia Ketaren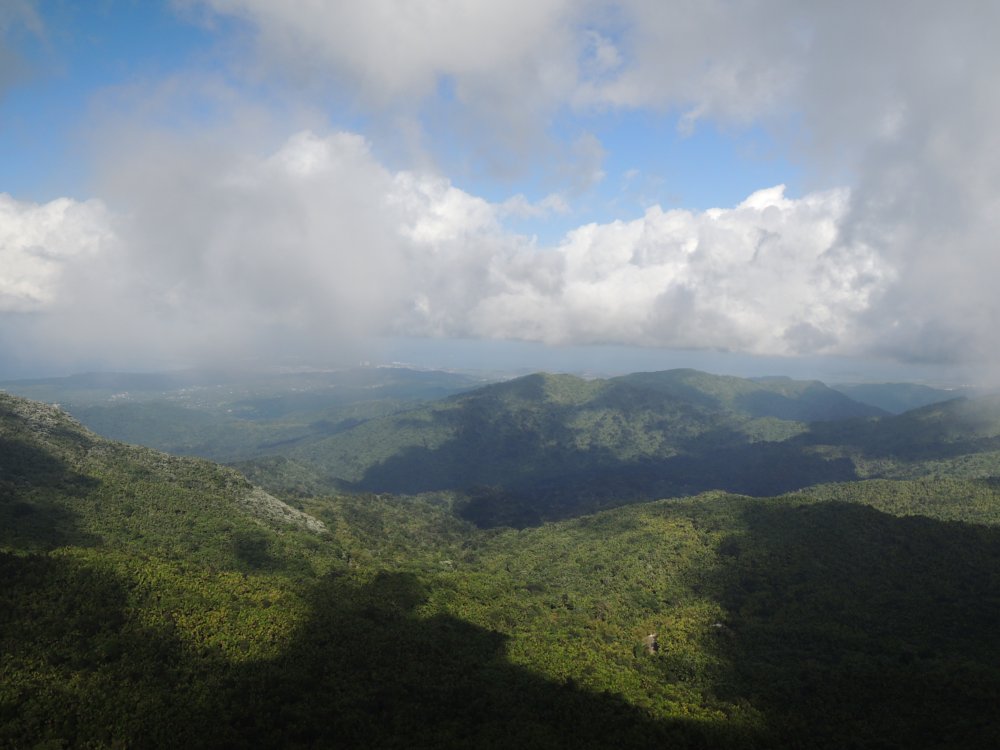 Puerto Rico, "the rich port," is an unincorporated territory of the United States. To us travellers from the US, that means that the currency is in dollars, our cell phones work and we need only a valid US license to travel there. San Juan is the capital. It is one of the most important ports in the Caribbean, situated on the northeastern side of the Island. Aside from its beautiful beaches, Puerto Rico is home to the US's only tropical rainforest, El Yunque. We took a seven day trip through this lovely island, and here's a little of what we saw and did.
Aguadilla
We arrived at Aguadilla's Rafael Hernandez airport by 9:30 am, which was the benefit of an early morning JetBlue flight out of NYC. The city is located on the North Western tip of Puerto Rico, a region famously known for its crashing beaches, a mecca to surfers world-wide. Aguadilla's airport is quite small, and before we knew it, we were on our way to our lodgings for the week in our rental car. Puerto Rico is best explored by car. Public transport is scarce and car rentals, though quite steep compared to US mainland prices, are the best option, especially if you want to move freely around the island.
Many accommodation options are available, from hotels to hostels and all that's in between. We chose to rent out a condo for the week. It allowed for a less intrusive visit and felt more like a home-away-from-home, except for the infinity pool overlooking the Atlantic Ocean.
Food
Puerto Rican cuisine involves a lot of fresh seafood, barbequed chicken, and rice. The local beer is Medalla, that is best served in cans, in a cooler on the beach, and the local rum is unlike the typical white rums found in NYC, it's brown and it's strong, and it's called Ron del Barrilito Tres Estrellas.
Strip malls dominate Aguadilla, and it's common to find a Church's Chicken, McDonalds, Burger King, and Wendy's all in the same location (or on either side of the highway). Additionally, the abundance of supermarkets made cooking a frequent option during our stay, which was relaxing, unlike sifting through numerous TripAdvisor reviews to find the "perfect" restaurant.
Beaches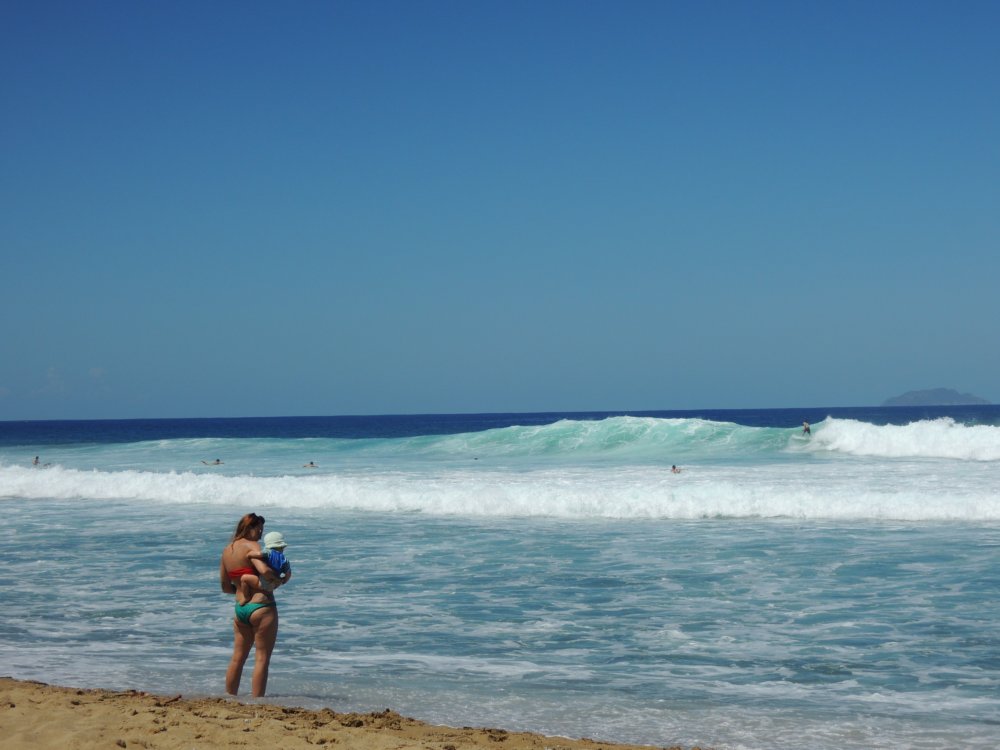 My first taste of the Caribbean took me to what I desired for months in NYC: a beautiful, warm beach. Whichever beach you happen to stop off at, the water is the cleanest, turquoise blue. We stumbled across many beautiful beaches either in Aguadilla or during our trips to neighboring towns. Here are a few of my favorites:
Crash Boat Beach, Aguadilla: From our apartment complex, you can see a jetty strutting out into a vibrant blue piece of the Atlantic. This is Crash Boat Beach. Upon arrival you're greeted by the aroma of barbequed chicken and fried tostones. Small caravans are lined up on the perimeter of the beach selling everything from children's beach floaties to piña coladas. As you walk through a scattering of picnic benches and palm trees, you reach the clear sand and soft waves. Locals sit sprinkled on the warm sand and in the blue-green ocean. It's a small beach, not at all crowded, yet filled with enough people to be merry. It's one of the calmest beaches I've been to and we spent many a day in our week-long trip sitting under cover of an umbrella on
Crash Boat Beach. We swam, we baked, and we watched people brave the jump off the old pier into the ocean. I even ventured that jump myself, once.  Our favorite beach on our journey, it's a must if you happen to end up in Aguadilla.
Domes, Rincon – Domes beach is one of the two main "surfers beaches" in Rincon. We arrived just after 10 a.m. and already the sun was beating down on our foreheads and bare shoulders.
You could tell right away that the dynamic in Rincon, was much more "cooler" than Aguadilla. Akin to stepping off the train at the Bedford stop in Brooklyn. The parking lot was full, and rightly so. With three meter swells, 20, maybe 30 keen surfers were waiting a few meters out from the wave break. Having grown up in Australia, I've seen my fair share of waiting surfers, but this was crazy, numerous people hitting the same wave, some poor paddlers getting struck on their way in. But the conditions were near perfect and the scene was quite glorious. I wouldn't recommend Rincon for swimming on a day like this. The rocks in the shallows can harbor some spiky sea creatures and when the waves are strong, it might prove a little hard to swim safely. But watching some surfers on some great runs is always thrilling.
Pozo Teodoro, Isabella: A day trip to Isabella, a neighboring town east of Aguadilla, brought us to a beach experience completely different to that in Rincon or Aguadilla. After a brief stop at what seemed to be a karaoke bar playing old Caribbean hits for its patrons living the sunset of their lives, we made it to Pozo Teodoro.
The sand was hot. There was no shady spot—an umbrella and flip-flops for trudging through the sand are a must for this beach. This end of the Isabella coastline is guarded safely from the pounding waves by a rocky interface forming a little bay. The waves are quite calm within the confines of the rocks and the shallowness of the water extends quite far from the shoreline. The eastern most point of this little beach, near the rocky interface harbors a stretch of rock-pools. This area is even more enclosed from the waves. Every now and then you hear a giant crash against the rocks as a flush of foamy seawater floods over the rock pools into a shallow body of water. It's here next to the wave crash where children sit and play in two foot deep water, watching pinky-sized schools of fish swim by. The water is so warm and, it was remarkably peaceful hearing the bang of the waves and feeling the flurry of water sweep over your body as children around you giggle with excitement.
We only explored the Western beaches of Puerto Rico. You only have so much in just one week to see what you can. But I promise you, these beaches will not disappoint, regardless of your reason for hitting the surf.
Old San Juan, San Juan
It takes two to three hours, depending on traffic, to drive from Aguadilla to San Juan. Tolls litter the drive as much as hammock stands on the side of the road. We didn't really know what to expect but the tiny amount of research revealed colorful colonial-style buildings and cats. We drove into the old town on a Sunday afternoon and were a little worried about finding some decent parking. Fortunately, we came across some local men who ushered us into a spot opposite a large government building. We were a little apprehensive at accepting their services, but luckily my better half has a bit more courage. We paid the men $5 and went on our way to explore the old city. Within five minutes we were there. The buildings are painted in pastel colors, with contrasting window edges and doors. The cobbled streets are well maintained and in some parts had a bluish glow to them. You could definitely feel a heavy police presence in the city and we were told later that there is a bit of a crime problem in San Juan, though we never felt it. The old city is filled with various shops, cafés, restaurants, and bars. We easily explored all parts of the town, walking past the fort, through the shaded arts district, and around many more areas in just a couple of hours. Though I do love the beach, it was nice walking in a lively town. With our stomachs grumbling, we consulted TripAdvisor for some food options and came across a gem of a restaurant, The Mezzanine at St. Germaine. With most restaurants closed during the switch from lunch to dinner at five p.m., we were led to The Mezzanine, located on 156 Sol Street, Old San Juan. It was a cocktail bar, which served a variety of sandwiches and tapas. We started off with their signature cocktails, a basil mojito and a rum old fashioned. We both agreed the basil mojito was one of, if not, the best mojito either of us have ever had. All the flavors were blended so nicely together, and the pineapple juice added a freshness to the drink that I'd like to recreate at home. I highly recommend this drink if ever you happen by The Mezzanine. The food was just as great. The ingredients were fresh and the portions were good. The Mezzanine was one of our best dining experiences in Puerto Rico. After one last cocktail, a Moscow mule, we headed back west. It would have been nice to stay a night or two in San Juan, but there's always next time.
El Yunque:
We had high expectations of conquering a decent hike in El Yunque, but we were a little ill-prepared with time. The national forest is located about one hour away from San Juan and closes at six p.m. on the dot. We left ourselves enough time for the shortest hike available, which is a 40 minute hike to the tower, Mt. Britton. It was a relatively easy hike, the trail paved all the way. There was nothing too impressive along the trek. Rainforests can have a certain effect on you, but this wasn't the case here, it felt too safe to be wild. The mild disappointment we may have felt on our short hike was quelled as we reached the top. As you span the tower, you see nothing but mountains of jungle and perfectly shaped clouds. The view was stunning and well worth our little hike. Next time, we'll conquer one of the other five known trails and immerse ourselves for a full day in the rainforest. It felt nice to be surrounded by so much green. Though our stop at El Yunque was brief, it was another great experience in Puerto Rico.
So there you have it. A brief look at what you can see and do in Puerto Rico in seven days. Don't forget to pack sunscreen and you'll be just fine.