Vanessa J. Wu
Flip Sigi has been a long time coming. This Filipino taqueria is headed by Chef Jordan Andino who was born in Canada, grew up in California. He takes inspiration from his Filipino grandmother and draws on skills from the time he spent working in fine dining.
Jordan's first restaurant in the West Village was originally named 2nd City, but has now joined the second restaurant located on the Upper East Side (UES) in sharing the name Flip Sigi.
With two locations, limited edition menu specials every month, and collaborations with other businesses, there's always something new to experience, but always with a hint of familiarity, maybe even nostalgia. And don't forget the distinctive hot sauces! There's 1st Base, 2nd Base, 3rd Base, and Jordan's very own recipe: Home Run. Put it on your burritos, bowls, burgers, and even Bloody Marys for an extra kick!
Like his hot sauce, Jordan is anything but bland. I had the pleasure of meeting him, and his energy is always so high that you'll probably feel it leaping off the page!
NS: What is the meaning behind the name Flip Sigi?
JA: Flip Sigi basically means "Go Filipino" coming from a play on the words 'Flip' – Filipino and 'Sigi' – which basically means go!
NS: Why do you think Filipino food is gaining momentum?
JA: Filipino food is gaining momentum because, as a whole cuisine, it speaks to the 3 major cuisines that are popular and understood in the United States: Chinese, Spanish, and American. The fact that Filipino food has all these small elements people are familiar with will make them more keen to try something new.
NS: I know you take inspiration from your grandmother's Filipino recipes. Why do you choose to remake other known foods with a Filipino take rather than traditional Filipino dishes?
JA: I like to remake the classic dishes because it helps introduce my culture and cuisine to a wider range of palates. The more that try it, the more people get introduced to my culture via my cuisine.
NS: What are your hopes for the future of your restaurants? Any specific goals?
JA: I hope my future restaurants will be great in number and widely respected among my cohorts and peers. Ideally, we create a culture, company, and restaurant that all people from the US can feel comfortable going to and eating at!
NS: How has your Californian identity influenced your food? As a Californian myself, I actually do get quite a bit of a Californian vibe from your food, your personality, and, to some extent, your restaurant decor!
JA: I would say that California influences my restaurants in two different ways: in my use of avocado and my vibe!  I can't help but love that laid-back feeling while trying to eat because it's just how I was raised!
NS: Why did you choose New York to open your restaurants in?
JA: I opened in NYC because as cliché as it sounds, when it comes to food, if you can prove yourself successful here, you're now universally respected.
NS: Why the UES and West Village neighborhoods specifically?
JA: Luckily for me, both the West Village and UES locations came from great contacts in the real estate business. We initially searched [in the West Village] because the reputation that restaurants have in this neighborhood is that of class and quality. We just had to be here to establish our brand as food-serious. We initially searched [on the UES] because with the opening of the 2nd Avenue Q train, this area will eventually be a hotbed of youth and an area that will attract guests in our price range.
NS: Is there anything that sets apart your UES location and your West Village location other than what's explicitly on the menu and what's on the "secret menu?"
JA: The locations are the same but have different fingerprints, so to speak. We want each place to have their own identity for the neighborhood that they're part of.
NS: Of all your monthly specials and collabs thus far, which would you say is your personal favorite? I was a fan of the December longanisa poutine. You should definitely make that a regular item!
JA: I've done so many of the specials and collabs that it's hard to remember. I'd say my two favorites are the Flip N Out Burger and the Sinigang Flip Bowl. Both are regular menu items now, but started as specials!  Although I do agree: the longanisa poutine was insane!
NS: What about your favorite non-rotating menu item?
JA: Favorite non-rotating menu item – Cali Burrito.
NS: I saw that you're going to be a part of the Food Show at the Javits Center in March. What are you planning on demo-ing? Anything from Flip Sigi?
JA: For the food show in March, I'm going to be on center stage demo-ing the highlights of Flip Sigi as well as some fun hacks for the general cook.
NS: Bonus Question: In-N-Out or Shake Shack?
JA: In-N-Out for life!!!!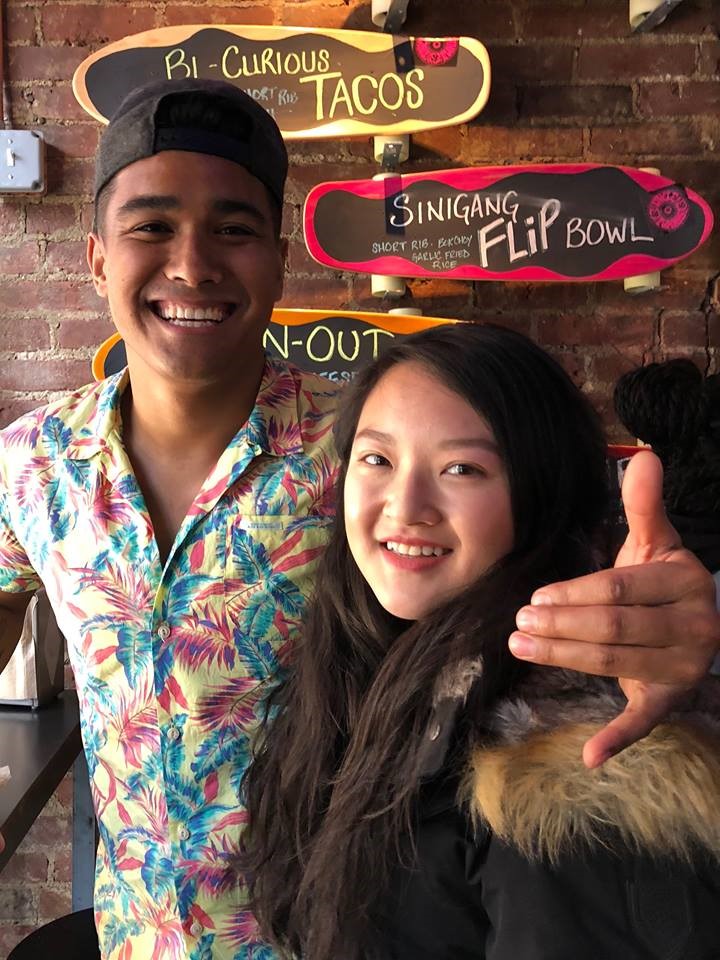 The author with Flip Sigi's chef, Jordan Andino.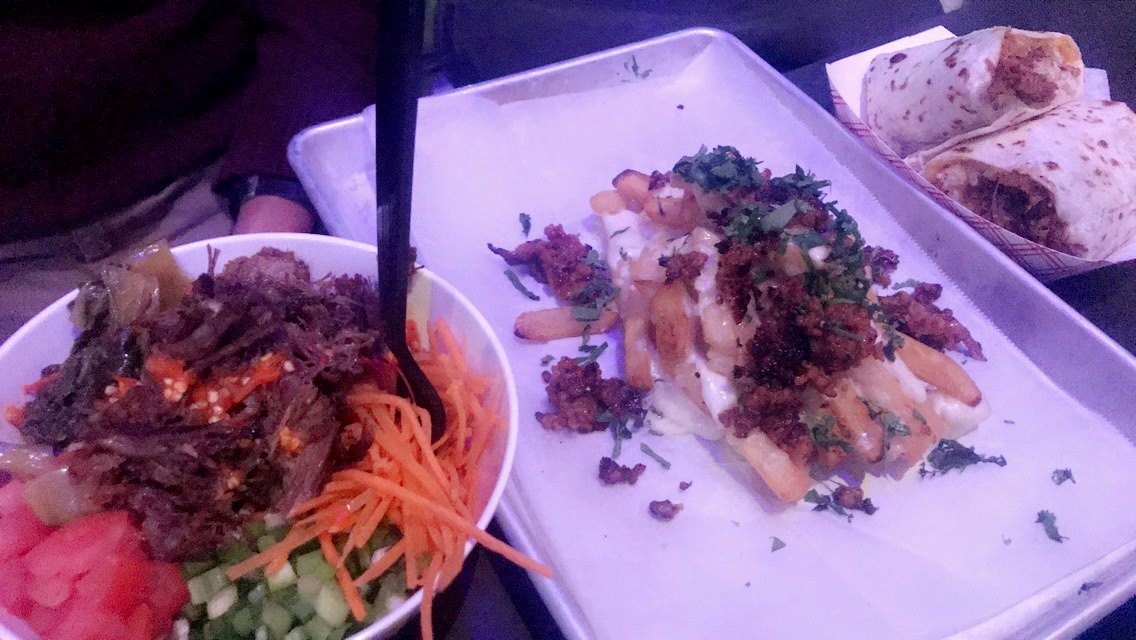 From left to right 1) Flip Bowl: one of Jordan's favorite limited-edition item, now here to stay; 2) Longanisa Poutine: Natural Selection's Vanessa's favorite limited-edition item; 3) Cali Burrito: Jordan's favorite regular menu item.
Flip Ramen: The first limited edition item of 2018 – a ramen with both chicken and pork adobo!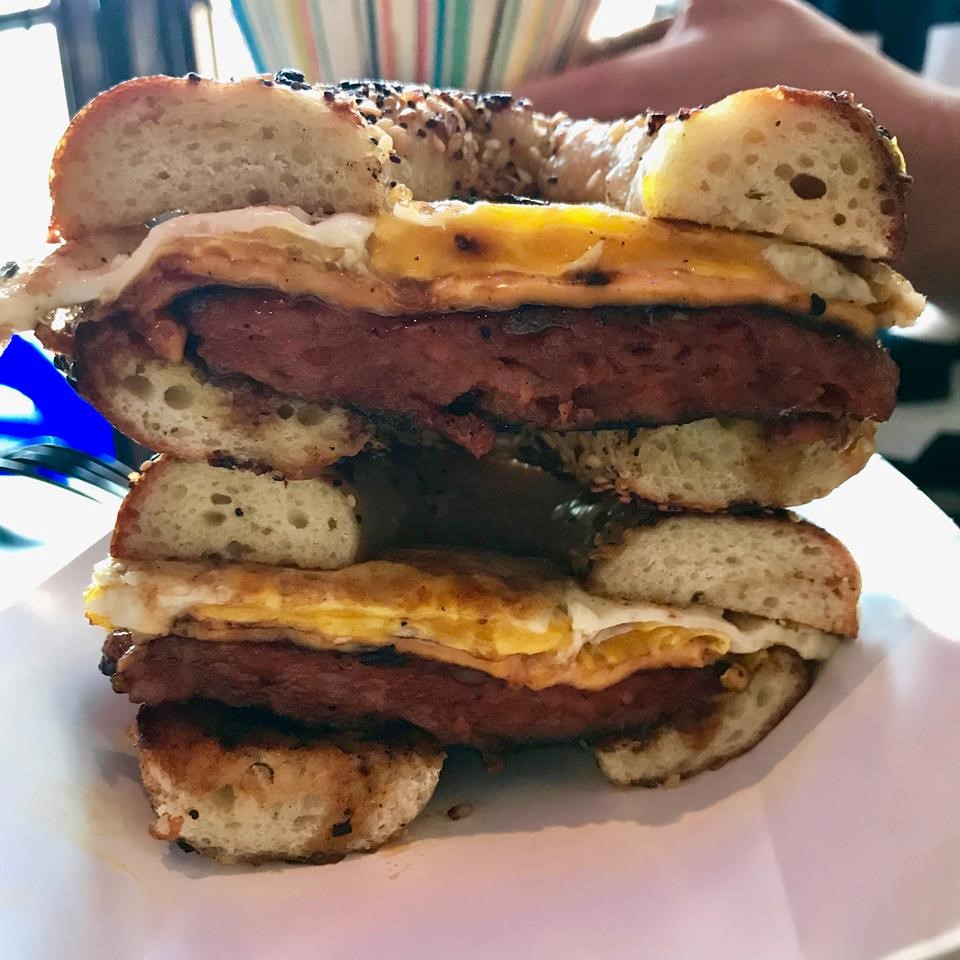 L.A.E. Me: a collab with black seed bagels now on the official Flip Sigi menu – longanisa, American cheese, and a fried egg on an everything bagel.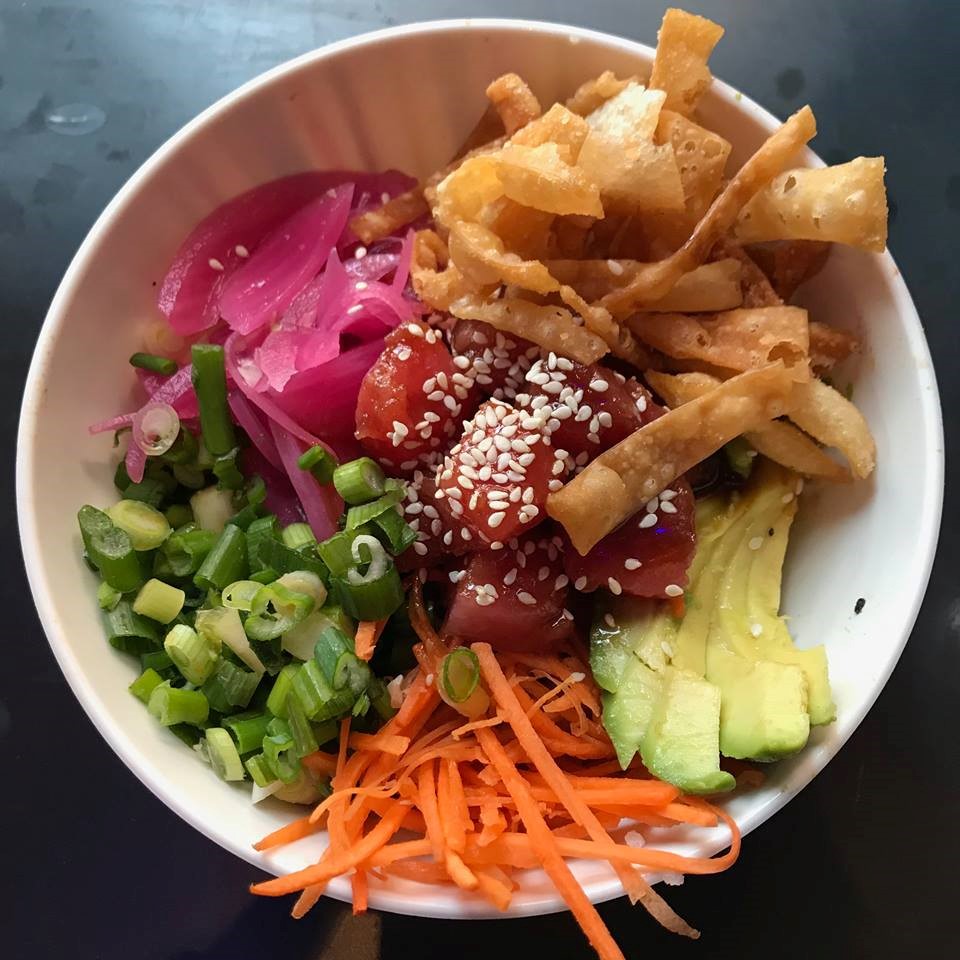 Poke Me: a twist on the classic tuna poke bowl served with sweet miso coconut steamed rice.
For my review of this restaurant and others: vanessajwu.yelp.com
For more photos from this restaurant and others: instagram.com/vanessajwu