Concert Review: Steve Winwood and Tom Petty & the Heartbreakers at Madison Square Garden, Sept. 10, 2014
By Bernie Langs
Suffice it to say I expect a lot from music, including filling the need for a communal experience of substance now that I've shed the tedium of liturgical gatherings of the established religions. Not only do I desire that a concert experience will bind me to those in the audience in having shared in something unique and special, but that the music itself will bring me to an individual experience of gain—gain in philosophical ideas or a flow within the soulful river of pure being and an experience on a higher plane of existence. Or I can also tap my toe and dance! But in the case of popular music, there have been so many disappointments in recent years that I usually shun the genre of live performances.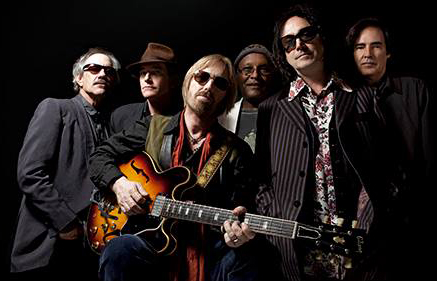 Given this somber introduction and my tentativeness in seeing rock music live, I made a spur-of-the-moment decision to take up my good friend Curtis's offer to join him at Madison Square Garden to see the great British musician/composer Steve Winwood and the all-American, long-lasting band, Tom Petty and the Heartbreakers. I met Curtis years ago in college where we'd often do musical jams in the evenings, experimenting in that time of youth with long solos and emotional musical communions. A couple of years ago, we rejoined forces to write some new songs, one being an "homage" to the late Beatle, George Harrison.
The concert at the Garden was scheduled to begin at 7:30 p.m. Since no one in New York shows up to a concert on time, the venue must have been about one tenth full when Steve Winwood took the stage at 7:31 p.m. Ah, those punctual Brits.
So began the magic. Winwood broke out as a boy wonder in his early teens as a performer in the 1960s with his smooth, silky, high register voice and his ability not only to navigate the organ and piano with unique, tasteful playing, but to do the same with the electric guitar. Winwood was part of the esoteric group Traffic and also a member of the short-lived super group Blind Faith, featuring bandmates Eric Clapton on guitar and drummer Ginger Baker, both who had just split from the mighty band, Cream. If you listen to their one studio album, you can hear Steve Winwood trading complex guitar riffs and holding his own with the brilliant virtuoso Clapton, who many still were calling by the nickname "God" at the time. Throughout the evening at the Garden, Winwood's voice was as strong as it has ever been throughout his career. It almost defied reason, age, and nature. He never strained and there were no moments of cracked notes, but smooth, steady, soothing and pleasantly reassuring that for the night we could pretend that nothing had changed since the sixties and those early days of excitement and the belief in limitless possibilities for change in the world for the better.
For years, I've owned a recording of a liveversion of Eric Clapton in his solo years doing an acoustic version of the Blind Faith song "Can't Find My Home." When Steve Winwood and began that song, I recalled he'd sung the album's original version and, as the sorrowful lament progressed, I became emotionally transfixed. It was a simple yet extraordinarily beautiful rendition of the tune. The more Winwood played (and the more the Garden's seats filled up), the more involved the audience became, and by the time he announced that he'd be playing some songs that had put the band Traffic on the charts, he had us in the palm of his hands. "Empty Pages" bounced along majestically, but when the opening notes of the famously long meditative song "Low Sparks of High Heeled Boys" began, I'm sure everyone knew we were in for something special. It is said the radio disc jockeys would put "Low Spark" on the air if they wanted to take a break would place that record on the turntable, tune up my guitar, and given its long running time, would give myself a good practice period to try out new riffs. At the Garden, Winwood's" Low Spark" keyboard solo began to build and build, and suddenly the sound of his organ filled the arena and the guitarist's sailing notes were solidly placed within the keyboard's sound, as if surrounded and enveloped within it. The emotion and excitement rose and rose to an incredible and surprising crescendo. One really has to wonder not only how the musicians, but also the technicians working the soundboard, crafted that unbelievable soaring moment.
After playing a few more hits, such as the soulful "Dear Mr. Fantasy," Windwood was done and the crowd gave him a great ovation. I effused to my friend Curtis about how unbelievable it was and we wondered howTom Petty and his band could possibly match such a high bar set by Winwood and his troupe.
Tom Petty delivered. The infamous Heartbreakers are the perfect backing band for Petty's songs, ideas, and lyrical musings. Their vocal harmonies were impressively strong and sent many songs to flights of excellence that if done by lesser talents would have been mediocre. Most famously, Tom Petty's lead guitarist is the wonder Mike Campbell, who can alternate between quiet moments of tasteful leads to loud and strong flares of quick-noted bursts of energy. Campbell was brilliant on two Petty songs, the odd and haunting "Mary Jane's Last Dance" and the upbeat ode to the meditative solo car journey, "Running Down a Dream." I was in awe as Campbell drove that song home with his song-ending emotional solo.
Tom Petty and the Heartbreakers is a band made on the layering of clanging guitars. Again and again during their set, we were treated to walls of guitars with overtones and resonations that delighted. It made for a very happy crowd, myself and my friend included. Petty played up to the crowd now and then, waving us on to cheer or forcing us into a ubiquitous sing-a-long. I wondered how I'd react to hearing his biggest hit "Free Fallin'" given that it has been played to death on the radio over the years. But when the band struck those first chords, they rang out like the freedom of the Liberty Bell to me. Towards the end of the show, Tom Petty made a brief speech about the healing and uniting powers of Rock and Roll. All of us thought "Amen to that, brother."