This Month Natural Selections interviews Matthew Meselson, Visiting Professor from Harvard University. By May Dobosiewicz.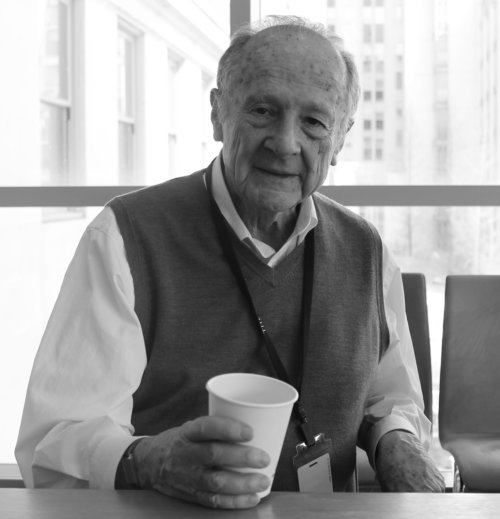 From: California
Been Here: Two months
Staying in: The Upper East Side 
What brought you to NYC?
We thought it would be warmer with not as much snow and rain as Boston, but we've had one really unusual winter here!
Do you come often?
Yes, pretty often. We have a son and daughter down here, and now we are introducing two of our grandchildren to New York. My wife grew up in New York. There's something about the air here, she feels like she's at home.
Do you remember the first time you came to New York?
Yes, it was 1949. I used to make rare earth chemicals and sell them to the AD Mackay Company on 198 Broadway when I was a kid in Los Angeles, California. I came to New York and wanted to visit the company, imagining it would be some fabulous place with all kinds of chemists, but instead it was just a little office and a room with shelves and shelves of dusty bottles. I was selling praseodymium oxide and samarium oxide—really pure stuff—for 60 cents a gram, and they were charging about ten dollars for it. A huge markup! The old couple that owned the company took me out for lunch, told me they were going to retire, and that if I wanted the company, I could have it for free. I was only 19 years old, and I thought, do I really want to spend my life doing that? I said "No" and got on a ship to La Havre, France.
What do you think of New Yorkers?