This month Natural Selections interviews Stephanie Phillips   Veterinary Technician Supervisor
Interview by Guadalupe Astorga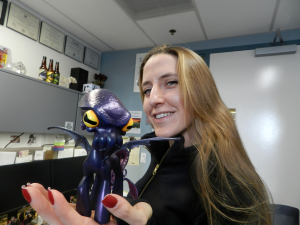 How long have you been living in the New York area? 
I've lived in Manhattan my entire life.
Where do you currently live?  Which is your favorite neighborhood?
I live on the Upper East Side of Manhattan, which is also my favorite neighborhood. I'm especially fond of the East 70's and my ultimate favorite hands down is Central Park.
What do you think is the most overrated thing in the city? And underrated? 
The most underrated, is the freedom that you have in this city. One thing that I really love about NYC is your ability to literally get anything that you want on any day and at any time. It's really convenient and allows you to be super independent.
The most overrated thing about the city, are the touristy areas, ex: the new Times Square, kind of makes me a little nauseated.
What do you miss most when you are out of town? 
The convenience of the city. It drives me nuts to leave. In my opinion everywhere else moves at a much slower pace, places close early and you need to own a vehicle just to do every day things. What's up with that?!
Has anything (negative or positive) changed about you since you became one of us "New Yorkers"?
Absolutely positive! I was born here and became street smart growing up in New York City. I have a go-go-go mentality, and thrive on multi-tasking, which I doubt I'd have if I grew up anywhere else.

If you could change one thing about NYC, what would that be?
I would bring back the old Times Square. The city had more character back then. It was gritty with its drug dealers and prostitutes wearing feather boas on every corner and there was a porn store on each block. Crime wasn't really up and the people weren't nasty–it just had character, it was tough, it was the center of the almighty New York City.
Now you go to Times Square and it's just one giant tourist trap filled with Broadway shows and shopping centers- it's really washed out and boring.
I would also bring back the all mega dance clubs like The Roxy, Twilo, Tunnel, Soundfactory and Exit.
What is your favorite weekend activity in NYC?
I like to go to Central Park and walk around with my pit bull "Tiny". It's a really great place to meet with friends and people watch. My dog rides a skateboard, so she is usually the focus of all the attention.

What is the most memorable experience you have had in NYC?  
When my husband proposed to me in the Central Park Bandshell.
Bike, MTA or walk it???
Walk for sure! I walk miles and miles throughout Manhattan – it's the best way to see the city.
If you could live anywhere else, where would that be? 
Tokyo, Japan, I've always wanted to go there. I think it'll be a big city and it'll be really fun. To be totally immersed in a completely different culture would be exciting.
Do you think of yourself as a New Yorker?
Oh yeah, without a doubt! 100% through and through – I have New York City flowing through my veins!