Jim Keller
The storm of film festivals galore began at summer's end with the one-two punch of the Venice (August 31 – September 10) and Telluride (September 2-5) film festivals. In recent years the former has been credited with birthing our eventual Best Picture winner into the world and so begins the Oscar race. In the second of a three-part series, we discuss the performances that are likely to feature in the Best Actor race.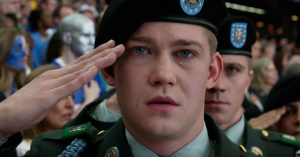 This year's race feels peculiar in that at September's end the festivals have not yielded any consensus of frontrunners. By this time last year we had already seen the performances of Michael Fassbender (Steve Jobs) and Eddie Redmayne (The Danish Girl) by way of Telluride and Venice, respectively, and Matt Damon (The Martian) via The Toronto International Film Festival (TIFF). Currently, we have little to go on because the films that have been shown have centered on a female, not a male, lead. Considering the Academy's history of mostly nominating films for Best Picture that have a male lead, this is a very good problem to have. One thing is certain: in the wake of the #OscarsSoWhite controversy, there are high hopes for Denzel Washington (Fences) and Dev Patel (Lion). This isn't to say that there aren't performances already out there that could become consensus decisions (Casey Affleck, Joel Edgerton, Ryan Gosling), just that it's too early to tell what critic groups might circle back to.
Before we get to this year, let's recap last year's awards.
Of the eight roles that were discussed here, three went on to secure Best Actor nominations. The biggest story was that after 22 years, the Academy finally broke down and awarded the top prize to Leonardo DiCaprio for his searing performance in The Revenant. There really wasn't much of a competition, given how overdue DiCaprio was for a win. But outside of Fassbender's performance in Steve Jobs and Redmayne in The Danish Girl, Bryan Cranston (Trumbo) and Damon (The Martian) managed to sneak in. There was a short snub list comprised of Johnny Depp (Black List) and Michael Caine (Youth) as Fassbender's other performance (Macbeth), and Ben Foster's in The Program were not able to find early footing. Mark Ruffalo, the last actor discussed here, wound up being nominated in the supporting actor for Spotlight.
THE HEE-RO: Joe Alwyn – Billy Lynn's Long Halftime Walk (director: Ang Lee):
FYC: Based on the novel of the same name by Ben Fountain, this drama concerns infantryman Billy Lynn (newcomer Alwyn) who recounts at a Thanksgiving Dallas Cowboys halftime show that he and his squad members made an appearance in during the final hours before the soldiers return to Iraq. Alwyn is as green as they come, with only a single screen credit to his name for the TV series documentary short, A Higher Education. As one of Lee's many directorial strengths is getting brilliant performances from his actors (see Sense and Sensibility and Brokeback Mountain), there is reason to expect the same here. Having been shot at 120 frames per second, the highest frame rate for a film to date, all eyes will be on Lee's film when it bows at New York Film Festival later this month.