Jim Keller
The storm of film festivals galore began at summer's end with the one-two punch of the Venice (August 31 – September 10) and Telluride (September 2-5) film festivals. In recent years the former has been credited with birthing our eventual Best Picture winner into the world and so begins the Oscar race. In the second of a three-part series, we discuss the performances that are likely to feature in the Best Actor race.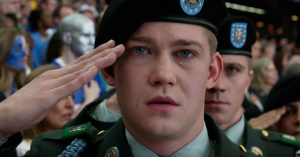 This year's race feels peculiar in that at September's end the festivals have not yielded any consensus of frontrunners. By this time last year we had already seen the performances of Michael Fassbender (Steve Jobs) and Eddie Redmayne (The Danish Girl) by way of Telluride and Venice, respectively, and Matt Damon (The Martian) via The Toronto International Film Festival (TIFF). Currently, we have little to go on because the films that have been shown have centered on a female, not a male, lead. Considering the Academy's history of mostly nominating films for Best Picture that have a male lead, this is a very good problem to have. One thing is certain: in the wake of the #OscarsSoWhite controversy, there are high hopes for Denzel Washington (Fences) and Dev Patel (Lion). This isn't to say that there aren't performances already out there that could become consensus decisions (Casey Affleck, Joel Edgerton, Ryan Gosling), just that it's too early to tell what critic groups might circle back to.
Before we get to this year, let's recap last year's awards.
Of the eight roles that were discussed here, three went on to secure Best Actor nominations. The biggest story was that after 22 years, the Academy finally broke down and awarded the top prize to Leonardo DiCaprio for his searing performance in The Revenant. There really wasn't much of a competition, given how overdue DiCaprio was for a win. But outside of Fassbender's performance in Steve Jobs and Redmayne in The Danish Girl, Bryan Cranston (Trumbo) and Damon (The Martian) managed to sneak in. There was a short snub list comprised of Johnny Depp (Black List) and Michael Caine (Youth) as Fassbender's other performance (Macbeth), and Ben Foster's in The Program were not able to find early footing. Mark Ruffalo, the last actor discussed here, wound up being nominated in the supporting actor for Spotlight.
THE HEE-RO: Joe Alwyn – Billy Lynn's Long Halftime Walk (director: Ang Lee):
FYC: Based on the novel of the same name by Ben Fountain, this drama concerns infantryman Billy Lynn (newcomer Alwyn) who recounts at a Thanksgiving Dallas Cowboys halftime show that he and his squad members made an appearance in during the final hours before the soldiers return to Iraq. Alwyn is as green as they come, with only a single screen credit to his name for the TV series documentary short, A Higher Education. As one of Lee's many directorial strengths is getting brilliant performances from his actors (see Sense and Sensibility and Brokeback Mountain), there is reason to expect the same here. Having been shot at 120 frames per second, the highest frame rate for a film to date, all eyes will be on Lee's film when it bows at New York Film Festival later this month.
THE TRAVELER: Dev Patel – Lion (director: Garth Davis):
FYC: Based on Saroo Brierley's non-fiction book A Long Way Home, the drama chronicles the journey of Brierley (Patel) who was separated from his family on the streets of Calcutta at the age of five and was later adopted by an Australian family. At 25, he finally finds his parents using Google Earth. This is the second high profile performance from Patel this year, next to The Man Who Knew Infinity. While Patel has yet to be recognized by major awards groups outside of his Best Leading Actor nomination by the British Academy of Film and Television Arts (BAFTA) and Best Young Actor/Actress nomination by the Broadcast Film Critics Association (BFCA) for Slumdog Millionaire, the reviews out of TIFF are strong and as I mentioned, the #OscarsSoWhite backlash is at a fever pitch.
THE LOVER: Joel Edgerton– Loving (director: Jeff Nichols):
FYC: The drama tells the true story of Richard and Mildred Loving (Edgerton and Ruth Negga), an interracial couple who were sentenced to prison in Virginia in 1958 for getting married. While he has been the recipient of several critics' group awards, most hailing from his home country Australia, Edgerton is the third leading man here that has yet to garner Academy acclaim. Still, his work in US films, such as 2011's Warrior and the aforementioned Black Mass has shown that he is capable of currying their favor. After the film premiered at this year's Cannes Film Festival, Negga's performance has been the one on everyone's lips. While Edgerton's performance has been said to be more controlled and less showy, if the film does well across the board, he could be swept along for the ride.
THE RECORD HOLDER: Denzel Washington – Fences (director: Denzel Washington):
FYC: This American drama, based on August Wilson's play of the same name, follows African American father Troy Maxson (Washington) who struggles with race relations in the US while raising a family in the 1950s and coming to terms with the events of his life. Washington is no stranger to the Academy. Having earned the first of two supporting actor nominations in 1988 for Cry Freedom, he won for Glory two years later. His string of Best Actor nominations began in 1993 with Malcolm X, followed by The Hurricane in 2000, and a win for Training Day in 2002. He was last nominated three years ago for Flight. Washington holds the record for most nominations for an African-American actor. In any given year Washington has a lot going for him. However, with the specter of #OscarsSoWhite looming large over the Academy, it would be surprising if he didn't make the cut this year.

THE SLAVE: Nate Parker – The Birth of a Nation (director: Nate Parker):
FYC: In this drama, Nat Turner (Parker), a former slave, leads a liberation movement in 1831 to free African-Americans in Virginia resulting in a violent retaliation from whites. The film premiered at this year's Sundance Film Festival where it won the Audience Award and Grand Jury Prize in the US Dramatic Competition. Then, Fox Searchlight Pictures bought worldwide rights to the film in the largest deal in the fest's history ($17.5 million). But it wouldn't be the Oscar race without a little controversy. On the cusp of the fall festivals it was widely reported that the woman who claimed that she was raped by Parker and his roommate Jean McGianni Celestin in 1999 while the three were students at Penn State had committed suicide. Parker and his publicity team made no effort to hide his past, leaving anyone who sought the information able to read all about the case and subsequent acquittal on his Wikipedia page, but the suicide was something they were not aware of. Suffice it to say, the case has now been exhumed, leaving the media and many critics to pour over the minutiae of it like vultures, and many Academy members to vow not to see the film. An interesting question is raised: should one's artistic work be evaluated purely on merit or should one's past have the ability to overshadow one's achievement? Before the controversy hit, Parker's film seemed unstoppable as a Best Picture contender, now the film's chances have become a big question mark. But the framework for this story has played out twice before with Woody Allen and Roman Polanski. Both directors, both white, both highly regarded by the film industry. Is it possible for an African-American director to rise above such character assassination? I would say that if he doesn't, racism is most certainly to blame.
THE FATHER: Casey Affleck – Manchester by the Sea (director: Kenneth Lonergan):
FYC: In this drama an uncle (Affleck) is forced to take care of his teenage nephew after the boy's father dies. The film premiered at Sundance to high critical acclaim and US distribution rights were acquired by Amazon Studios, who beat out Sony Pictures Classics, Universal Pictures, Lionsgate, and Fox Searchlight. If there were a frontrunner at this stage, it would probably be Affleck, who was nominated for Best Supporting Actor in 2008 for The Assassination of Jesse James by the Coward Robert Ford. The role, which won him the National Board of Review and the National Film Society of Critics awards in 2007 and 2008, respectively, also earned him BFCA and Golden Globe nominations in 2008. Since then, Affleck has steadily built his repertoire with memorable roles in Gone Baby Gone, The Killer Inside Me, and Ain't Them Bodies Saints. For now, he's the closest thing to a favorite, but is the Academy likely to ignore #OscarsSoWhite for the third year in a row?
THE BRIT: Hugh Grant – Florence Foster Jenkins (director: Stephen Frears):
FYC: This British-French biographical comedy-drama film tells the story of the titular character (played by Meryl Streep), a New York heiress with big dreams of becoming an opera singer, despite having a terrible singing voice. Given Streep's ability to slide in and out of a wide range of roles like a chameleon, on paper the film appears to be a shoo-in for Streep to earn her twentieth nomination. But what I certainly didn't bank on was Grant holding his own as Jenkins' paramour. Upon further digging, I'm a little less surprised having learned about his Golden Globe win for Best Performance by an Actor in a Motion Picture – Comedy or Musical and subsequent nominations for Four Weddings and a Funeral (1995), Notting Hill (2000 ), and About A Boy (2003). It seems certain that Grant will be recognized this year by BAFTA, but will he also impress the Academy? After all, he has yet to catch the eye of some of the precursor award shows along the road to the Oscar.
These are just a smattering of performances from actors with the pedigree to earn a nomination as Oscar season gets underway. Other performances from leading men this year that could make their way down the winding road to the Oscars include those that have been seen (Miles Teller in Bleed for This, Jake Gyllenhaal in Nocturnal Animals, and Ryan Gosling in La La Land), as well as those yet to premier: David Oyelowo (A United Kingdom) and Brad Pitt (Allied). The New York Film Festival will be the next to weigh in from September 30th – October 16th. Until soon Oscar watchers!