Sacred and Profane Images in Venice and Padua
By Bernie Langs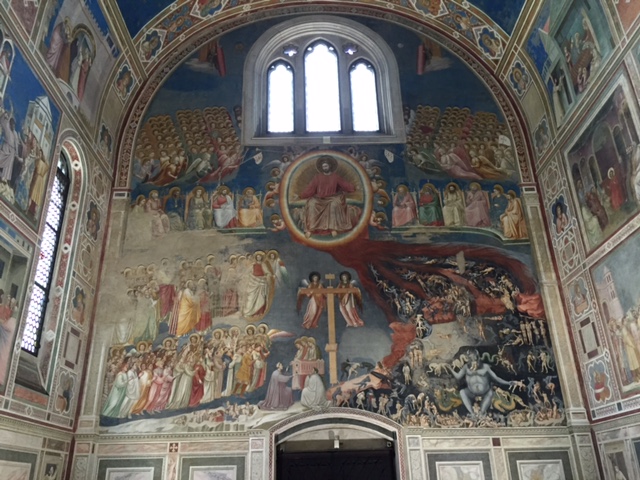 The laws and edicts are laid out in the Old Testament in exacting terms specifying the ornaments, utensils and measurements for these objects utilized in the holy temple and for the division of spaces designated as sacred from those places for mortals. The biblically assigned priestly caste was left to minister the negotiation between man and God. Only he could physically enter the area behind the curtain or veil beyond the altar separating the congregation from the Holy Spirit.
The Jewish religion prohibits graven images of God, forbidding representational sculptures or paintings of biblical stories and heroes. There are examples of Jewish burial tombs and other remains that had been decorated with the symbols for rituals and life in the ancient world that were later mutilated or chiseled away by disapproving rabbis as a reminder of these edicts. Early Christian images, after co-opting ideas from those previously of service to ancient Roman and Greek gods or from secular life, accelerated into the early medieval time with flourishes of astounding profundity and beauty. Lives were lost over the iconoclast notion that to pictorially represent Christ and the Holy Spirit was a dangerous trespass on the immaculate and omniscient ideal since no picture could or should imitate or approximate the Divine.
At the culmination of the middle ages and into the early and High Renaissance there was no holding back the master illuminators, sculptors and painters in Italy and in the northern areas of Europe. Great religious art peters out by the mid-seventeenth century at which time there was no longer room for innovation and the power that such images had previously attained was lost.
Today we live in a time of hyper self-awareness. As many people abandon notions of a God who is aware of mankind' actions and is capable of direct intervention in human affairs, there remains a void to be filled for a higher purpose in life. From some perspectives, a desirable end of ritualistic and avid dogmatic doctrine might relieve a great deal of worldly tensions since fanatics and zealots hold strong so-called inspired revelations. Equally profound and illuminating might be a more objective and scientific study of those in the past who, in the written word or through the plastic arts, drew inspiration on the notions and ideas of their times of what was holy and greater than human endeavor. Some might find interest in a religion that reluctantly winks at the thought of a Primary Mover and nothing else, yet still finds fascination in what was revealed by others who had taken a different, mystical path as they groped for understanding a higher purpose.