Aileen Marshall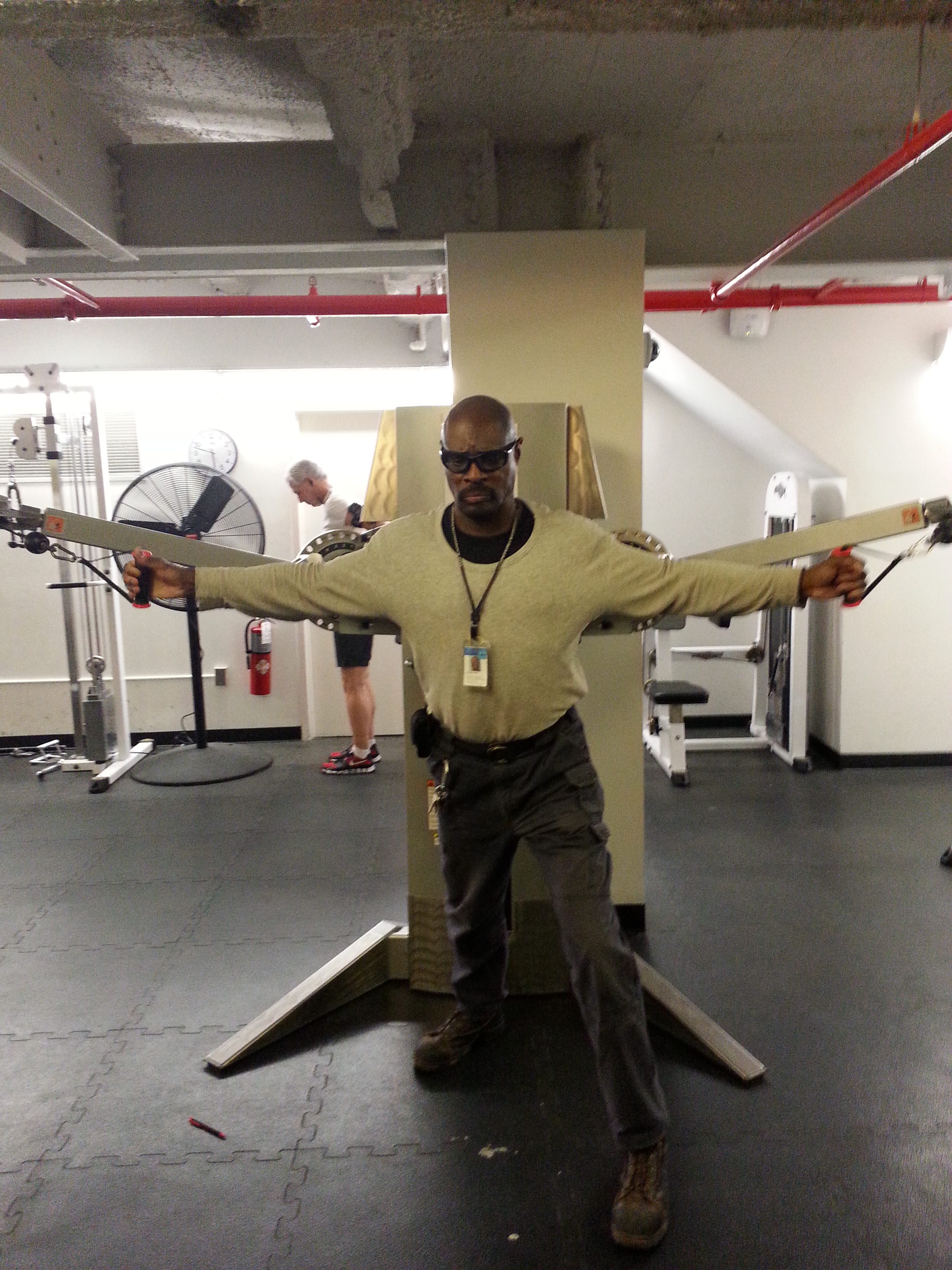 What can one say about Isaiah Curry? Almost everyone on campus knows him. Many of us know him as "that guy you always hear laughing in the hallways." And we also know him as the person who handles much of the hazardous waste we generate in our work. He's always there to greet us with a smile, a joke, or even some helpful advice. If you want to know a tidbit of campus information such as where a certain room or facility is located, or who to contact to find help with different issues, or the history of how the campus has evolved, you can always ask Isaiah. He knows almost everyone at Rockefeller, past and present. After forty-four years of being a campus icon, Isaiah retired on January 31, 2018. I had a conversation with Isaiah one night in the Faculty Club and this is what I learned about his history here. Of course, several people stopped by during the interview to joke with him. 
Having grown up nearby in upper Manhattan, Isaiah had heard of the Rockefeller University through his mother, who had worked here at one time. He started in 1974, originally in the custodial department. In 1976, the Radiation Safety Department was established on the 11th floor of the Weiss Building (then known as the Tower Building), with only five people. One of them invited Isaiah to join the team, where he was trained to handle the radioactive waste. Later, the department changed its name to Laboratory Safety, to encompass more aspects of that area. Then Isaiah added the processing of biological waste to his responsibilities. The department is now called Laboratory Safety and Environmental Health, and Isaiah has been managing biological waste material for the entire campus ever since.  
In the early years, despite being assigned a large grey cellular phone, which was cutting edge technology for its time, Isaiah still had to push all those carts that transported the biological waste materials manually. Later he was upgraded to a flip phone, and eventually the university provided a Power Tug and a small electric truck to help pull and push those large grey carts that transported the material. Isaiah also learned to do his job more efficiently, such as processing the waste after pickup from each building, rather than waiting until he had picked up waste from the whole campus. He often stayed late to finish his work and came in on holidays so there wasn't a backlog when he returned. He learned early on that students and postdocs work on holidays. "It has nothing to do with overtime, it has to do with staying ahead of the labs…I don't quit until I'm finished." He has noticed over the years that the radioactive waste is decreasing and the biological waste is increasing, an indicator of how research techniques have changed. He has always been trustworthy and reliable, and is always glad to help anyone with questions or errors in their waste disposal. Isaiah has returned after several surgeries over the years. Even two hernia operations, a torn knee meniscus repair, and a hip replacement could not keep him away from his duties for long.  
Isaiah is known for greeting everyone he knows with a smile and a joke. Isaiah often jests that he used to be shorter before he started picking up the radioactive waste. Over the years he has gotten to know the likes of Robert Darnell, Günter Blobel, Roderick MacKinnon, Charles Rice, Ali Brivanlou, Michael Young, and Jeffery Friedman. Friedman always invites him to his lab barbeques. Darnell, head of The Laboratory of Molecular Neuro-Oncology, commented "I will forever remember the generous, humorous, and wonderful spirit Isaiah brought to the laboratory every single day, year in, year out. He helped make Rockefeller a special place for the scientists, nurturing the feeling that we were all on the same team, friends and colleagues working together to do something important." We all know him as one who could make us laugh during the work day. Victor Cisneros, from Information Technology, relayed one humorous episode with Isaiah. They were chatting in the hallway between Greenberg and Founders when a "well-suited gentleman" approached them and asked for directions to Founders. Isaiah gave him directions. After the man left, Isaiah wondered if the man would "get his act together." Victor said "Isaiah! That's our new president, Marc Tessier-Lavigne. It's his first day on the job!" Susan Powell of the Proteomics Resource Center remembers how he helped her after she was mugged in 2007 on York Avenue and 64th Street. "Isaiah constantly finds me walking the halls looking downward. For years he warned me, "Look up, Sue!" meaning, be aware of my surroundings. He also showed me ways to defend myself using keys. "Carry your keys in your hand so they protrude between the fingers, and if you need to defend yourself, aim for the eyes." She added "They say laughter is healthy, it relieves stress, it helps the immune system, it helps to heal, it contributes toward a longer life. If all this is true, Isaiah will be around for a very long time."     
Isaiah has always been active in campus life. Some members of campus might remember Isaiah being involved in the basketball league that began sometime in the 1980s. Isaiah remembers that Patricia Murskey, then head of the Rockefeller library, donated money in memory of someone who had died to have a basketball tournament. They would play teams from other institutions, on a small basketball court, where the Greenberg building is now. And those of you who use the gym might know that Isaiah has always taught a class there. In the early 1980s, when the gym was located in the Graduate Students Residence, where the Child and Family Center is now, mailroom attendant Jose Santos would practice karate there, piquing Isaiah's interest. Isaiah would work out with him, trained in Santos's dojo, and eventually became a black belt. Even after Santos left, Isaiah continued to work out and practice in the gym, and other people liked what he did and asked to join him. Thus his class evolved, over thirty years ago.  He has never charged, and faithfully shows up, no matter how much work he has to do. He often goes back to work after class.  
Isaiah's last official day at Rockefeller University was January 31, 2018. He vows to keep working out, and is toying with the idea of moving Florida. Considering that the Rockefeller is practically Isaiah's second home, I wouldn't be surprised if we still see him popping up here from time to time. He has always been a thread that unites us. As many people have commented "it won't be the same here without him".