By Brianna Caszatt & A Gerald Martini, football masterminds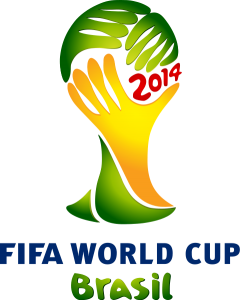 Temperatures are rising and flowers are in bloom: summer is practically here. And for one month this summer, people around the globe will be riveted to their screens watching all the drama unfold in Brazil at the 2014 World Cup—the football (yes football, but soccer if you must) tournament that 32 countries have spent the last three years qualifying for. Remember how excited you were to watch the Olympics? Well double it, and that's how the rest of the world feels. But if you can't muster that much enthusiasm, this handy guide we've created should at least help you keep up with all the cool kids watching. So muddle some limes for a month's worth of caipirinhas and grab your contraband caxirola, Brazil's noise-making answer to the vuvuzela (imagine if a rattle and brass knuckles had a baby—they've since been banned from the stadiums after being used by fans as missiles), and let's tuck in.
For those of you who are total World Cup novices, there are eight groups of four teams each. Each country will play all three of the other teams in their group, and the top two teams from each group will advance to the knockout rounds. The top two from the group are determined by awarding three points for a win, one for a draw, and zero for a loss. Google "World Cup 2014 Bracket," print one out, and make your own predictions!
Group A – Brazil, Cameroon, Croatia, Mexico
Even if there is the potential for off-the-field drama in Brazil this summer, we think Luiz Felipe Scolari is a great coach for the current Brazil team and are excited to watch them. (Gerry: Full disclosure, I may just be saying that because he used to manage the team I support, Chelsea, or because he looks a bit like my late grandfather, or because there are four Chelsea players in the Brazil squad.) They are the host team, have won the most World Cups (five), and are the only country to have qualified for every single World Cup, so it's safe to say they are one of the favorites to win it all. Mexico can be a really good team on their day, but they don't always seem to produce at the World Cup, and they limped into this one, having beaten New Zealand in a playoff for one of the final spots in the tournament. We expect them to get a push for that second spot from Cameroon—because Samuel Eto'o loves to score in big tournaments—but they should go through. Sorry Croatia.
Group B – Australia, Chile, Netherlands, Spain
A tough group this, with Australia lucky if they manage a single draw, even, from their three matches. Chile has the potential to challenge the Netherlands and Spain in this group, but a lot hinges on whether Arturo Vidal (a dominant central midfielder who is recovering from minor knee surgery) will be fully fit. Spain is the reigning World Cup champion (plus European champions two times running), so it is hard to bet against them in either the group or to win the tournament. But the Netherlands has some very talented players, and their wily manager, Louis Van Gaal, has just announced that he is going to play with a new formation—if it works, they could take the top spot from Spain. We still expect those two to go through though. (Brianna: Full disclosure, if the trophy were awarded on looks alone, Spain would win before the first whistle.)
Group C – Colombia, Greece, Ivory Coast, Japan
Somehow this is the group without a heavyweight; really, any of these teams could go through. However, Colombia will miss Radamel Falcao if he doesn't make the first of their three group games (he's also recovering from knee surgery)—they will need his goals if they are to make it to the knockout stage. We learned in Euro 2004 not to doubt the Greek team, but still think it unlikely that they will progress. For our money, Ivory Coast is the best team in this group; ex-Chelsea great Didier Drogba is on the team, but, most importantly, they have Yaya Toure. He commands the center of the field in a way that no one else in world football does. We will also pick Japan to go through. We don't get to watch them play very often, but we're always impressed with their style since they often have a lot of ball possession.
Group D – Costa Rica, England, Italy, Uruguay
This is certainly one of the toughest groups. Costa Rica should be the obvious last place finisher, but England loves to choke in these situations. Even the British government isn't very confident; a document was leaked in May claiming the England team had only a 54% chance to even advance to the knockout stages! Uruguay could be the team that takes a spot from them, but they will need to balance their incredible attacking talent with a little defense. Italy should go through because Andrea Pirlo has clearly made a pact with the devil that is starting to pay off. He will be 35 by the time the tournament begins and only looks like he's getting better with age—he just led his club team, Juventus, to a third straight Serie A title and is perhaps the world's best passer and free-kick taker.
Group E – Ecuador, France, Honduras, Switzerland
France left one of their best players, Samir Nasri, out of their squad because he is supposedly a pain in the coach's backside, but they should still have the quality to top this group. The other three teams are going to have to play well against each other—any one of the three could take the second spot. Whoever goes through won't make it far in the knockout stages. That includes France, who will rue the day they left Nasri at home once they move on to better teams (or so say several ex-greats from past French teams, and we tend to agree with them).
Group F – Argentina, Bosnia-Herzegovina, Iran, Nigeria
You just know Argentina's Lionel Messi is aching to have a great World Cup. After four years running of being voted the best player in world football, he lost the crown this year to Cristiano Ronaldo of Portugal, and he will want to remind us all who is really the king. Argentina's phenomenal attack (though oddly Carlos Tevez has not been chosen) will see them ease through this group, and there are signs that they might be starting to find a bit of defensive balance. If that's the case, it could make them a threat to win the whole tournament. Edin Dzeko's current hot-streak in front of goal will mean that Bosnia-Herzegovina gets our pick for the other knockout round–bound team.
Group G – Germany, Ghana, Portugal, United States
Sorry USA fans, but it will be a pretty tough haul for the boys in red, white, and blue to make it past the likes of Germany and Portugal to the next stage of the tournament. Frankly, even Ghana will be a tough game, though the US will at least expect to win that one. But we think if they can take the game to Portugal and cut off the supply chain to Ronaldo (because if the ball gets to him with space for him to run, they're screwed), they could eke out a win here and advance in second. Germany is the obvious best team in the group and wouldn't be a bad bet to win the whole thing; if anyone seems likely to overturn Spain's recent stranglehold on big tournaments, it's Germany.
Group H – Algeria, Belgium, Russia, South Korea
We think viewers should expect very good things from Belgium this tournament. They should win this group and will be a tough team for anyone to play against. They are especially strong in the central defensive and attacking midfield areas of the park, but quick players along the flanks could undo them in the knockout rounds. We think Algeria could surprise Russia and take second place in the group, though their committed attackers might leave them vulnerable at the back. South Korea had a great tournament when they co-hosted with Japan in 2002 and made it to the knockout round last time around, but I don't see them being a contender in this group. They could surprise us though—they have a few very good players.
Final Prediction
Brazil and Germany in the final, with Germany for the win.