By Aileen Marshall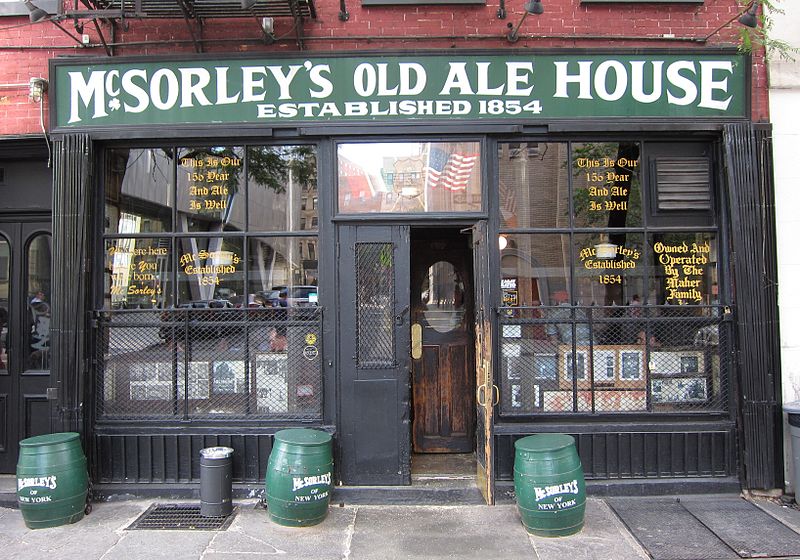 Most New Yorkers have heard of, if not been to, McSorley's, a downtown bar. Popular belief is that it's the oldest bar in the city, it even has sawdust on the floor. Many historical figures have patronized it over the years. It's also famous for being one of the last to allow women. It had a unisex bathroom until recent years.
Officially, the name is McSorley's Old Ale House, at 15 East 7th Street, in the East Village. According to the bar's website, it was established in 1854 by John McSorley, a recent Irish immigrant. The original name was "The Old House at Home." In 1865 the building was upgraded and John and his family moved in upstairs above the bar. According to city records, the address was a vacant lot until 1861. A writer for New York Magazine did some historical research and found it opened in 1862.  The title of oldest continuously running bar in the city had been Bridge Café on Water Street, established in 1794. However, McSorley's can claim to be the oldest Irish bar in New York City.
In 1888, John McSorley bought the building. John's son, William took over the bar in 1911.  William sold the bar to Daniel O'Connor (in 1936), a longtime patron and retired police officer. O'Connor's daughter, Dorothy Kirwan, inherited the bar when her father died in 1939. Since the pub did not allow women, she made her husband manager and only came on Sunday nights after it was closed. Dorothy's son, Danny, took ownership of the bar in 1975. He then sold the bar to Mathew Maher, an Irish immigrant and friend of this father's, in 1977. Maher still owns McSorley's today.
In 1905 McSorley's tried serving hard liquor along with beer, but stopped a year later, and the bar has only sold beer and ale ever since. During Prohibition, they sold "near beer" but ale was sold in the back room. In the early 1900s, the artist, John Sloan, was a regular who did of series of paintings of McSorley's, some of which are hanging in the bar today. In 1940, The New Yorker published an article about the bar, which was a big boon to business. The author published a book, McSorley's Wonderful Saloon, three years later. That same year, Life Magazine did a photographic feature. After being sued by two National Organization for Women lawyers, a landmark Supreme Court order forced McSorley's to allow women in 1970. The management considered becoming a private club, but then gave into public pressure and ended their discrimination policy. At that time many predicted McSorley's end. Since there was only one bathroom, it was designated "unisex." A ladies' room was built in 1986.
Many historical figures such as Abraham Lincoln, Ulysses S. Grant, Teddy Roosevelt, Peter Cooper, Boss Tweed, and Woody Guthrie are reported to have sat on the stools. Literary figures like Hunter S. Thompson, Brendan Behan, and E. E. Cummings are known for knocking down a pint. E. E. Cummings wrote a poem, "i was sitting in mcsorley's" in 1925, in which he describes the bar as "snug and evil." When the New York Rangers hockey team won the Stanley Cup in 1994, they took the cup to McSorlely's and drank out of it.
The bar has many interesting and historic decorations and artifacts. A portrait of Peter Cooper hangs over the fireplace. During World War I, the "doughboys" going off to war would leave a wishbone hanging over the bar, and would take them down when they came home. The dusty wishbones hanging there today are from those who didn't make it back. The original taps are still in McSorley's, although they no longer work. But the coal-burning stove does. A wanted poster for John Wilkes Booth hangs in the bar, as well as the Yankees' official farewell photograph of Babe Ruth. J. Giles gave a gold record of "Love Stinks" as well as the sheet music to McSorley's. There is a signed copy of Frank McCourt's "Angela's Ashes" donated by the author after he did an interview with Tom Brokaw in the bar.
One of McSorley's known mottos, "Be Good or Be Gone," is inscribed over the fireplace. There is a sign on the wall that says "We Trust Here" over a picture of a pig's posterior. "Good Ale, Raw Onions and No Ladies" was the saying until 1970. Raw onions are still part of the cheese platter. This stronghold of Old New York even still serves a liverwurst sandwich.