By Natalia Ketaren
September 7 sees the end of two wonderful exhibitions in NYC. The first exhibition I saw and will speak of, was the highly publicized China: Through the Looking Glass housed at The Metropolitan Museum of Art (Met). The second, equally enchanting and moving, was that of Yoko Ono: One Woman Show, 1960-1971 presented at the Museum of Modern Art (MoMA). An exhibition curating the artist's work during her early years (1960-1971), years that defines her as the artist and figure we see today.
China: Through the Looking Glass (May 7 – September 7)
I had known about the exhibition first from social media sites and fashion magazines. Many designers were previewing Chinese style influences in their Spring/Summer 2015 collections. Needless to say, I was excited to view the exhibition after seeing all the beautiful dresses and accessories from this year's Met Gala.
The exhibition is focused on China's influence on Western art, fashion and design over the decades. As I entered the exhibit, I was welcomed into a dimly-lit space and, in the background, the soft sound of music. Imposing mannequins stood singularly or in small groups, each dressed in an elaborate gown, rich in detailing, ranging from delicate hand embroidery and cascading figure-hugging silk, to boldly woven silk brocade, structured into ornate shapes that sculpted the body into a work of art. One particular Yves Saint Laurent gown, with images of a dragon against a backdrop of bright red sequins, had me stop in admiration, not only at its beauty, but, in appreciation of the time, effort, and patience it must have taken to create such a beautiful object. Each gown, coat, trouser, and suit I saw, aside from the historical communist uniforms, were brightly colored in the colors I most associate with China: red, emerald, canary yellow, and, of course, iconic blue and white. Even black garments shimmered with fine beading or sequins, or were bordered with the brightest shades of contrasting color.
Alongside the gowns are accessories so finely crafted you can't help but pause. I couldn't step away easily from the delicate craftsmanship of the shawls, embroidered with scenes of lavish gardens and busy towns, strewn with peonies and colorful animals. Each shawl must have taken months if not longer to perfect, the product so meticulously constructed, so luxuriously designed, would leave Persian artisans in awe.
As I traveled through each room, every painting, every object, every film reel was captivating. It is a truly mammoth exhibition, spanning numerous rooms within the Met, over three floors. It wasn't surprising that the run was extended past its August end date. There is so much more here than just beautiful objects, there is a true appreciation of a culture so enchanting, that it inspired so many people to create such amazing works. I highly suggest, before September 7, you take a walk around the beautifully curated exhibition, which is China: Through the Looking Glass.
Yoko Ono: One Woman Show, 1960-1971
A far cry from Ms. Ono's first unofficial exhibition at MoMA in 1971 titled, The Museum of Modern F(art), this compilation of Ono's work is much more traditional, amassing 125 of her sculptures, paintings, music, interactive performances, and videos.
As you enter the exhibit, it's almost befitting that you should be welcomed by a wholesome, green apple. A symbol of knowledge and also a symbol to many, of her association with John Lennon and The Beatles.
The space itself is not too large. Many pieces seemed to almost sit on top of one another. However, I found myself completely absorbed by what I saw. I loved how so many pieces were interactive. Many of us learn by doing as much as by seeing and listening, and by being a part of the art, we can better relate our own emotions to it.
I found myself greatly moved by her performance pieces and her videos. A video of John Lennon smiling in slow motion was captivating, you couldn't help but smile back, that being the intent of the piece. The description roughly translated, was that this particular piece is a way for us to focus on an object of happiness when meditating. Many of us find it difficult to switch off to meditate, especially in this age with so much technology and distraction to overwhelm our senses. It's such a clever idea to have your mind focus on something so gentle as a smile, when trying to focus on betterment.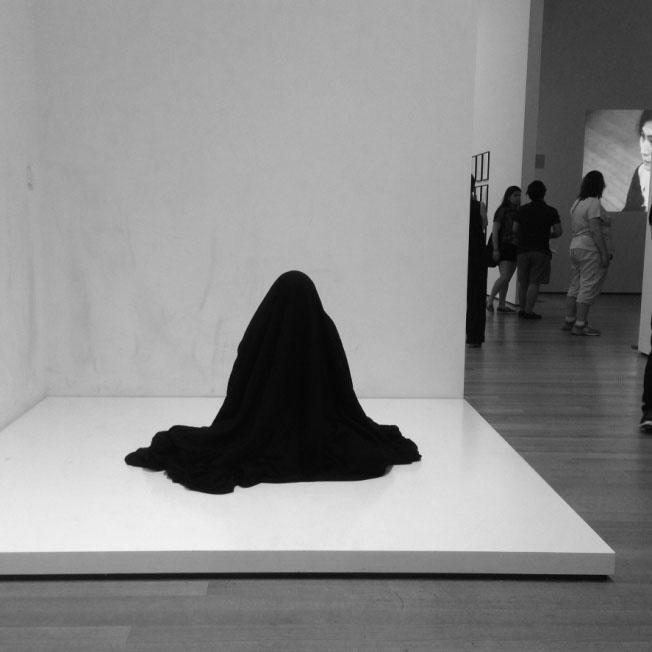 One of her works that caught me by surprise was Bag piece. It was one of the most moving and relatable pieces of art I saw there and really, that I've seen since moving to New York five years ago. The interactive performance piece involves one or two individuals encasing themselves in a large, black, velveteen bag, whereby they undress and redress inside the bag. The emotions of the people inside the bag are said to be first of confusion, some humor and then self-consciousness, as they can see the audience react to their being in the bag. However, soon they realize that inside the bag, their emotions and their physical form, is completely hidden from those they can see. What one sees from inside the bag is solely how one thinks people see and appreciate things, and what one believes they have to give people around them. The concept behind Bag piece is that without physical insecurities, without judgment of what you look like and how you express yourself, how do you feel about yourself? How do you feel about who you are? And what would you do? It's a truly beautiful and confronting piece.
The simple message of love and happiness resounded in all of her works. The sweet video of both Yoko and John during their in-bed protest was a pure display of love. It showed people, that we shouldn't be afraid to show our love for others, especially when such a violent and selfish world surrounds us. I highly suggest, that if you are in Midtown, drop by and check out Yoko Ono: One Woman Show, 1960-1971 before it ends September 7.
So there you have it, my two cents on two amazing exhibitions currently running in NYC. Hopefully you'll have time to enjoy one or maybe both of them before they end on September 7. And if you do, hopefully you'll feel a little lighter and happier at seeing such extraordinary works of art.