This Month Natural Selections interviews Phil Kidd, Graduate Student in the Siggia and Young laboratories.
By May Dobosiewicz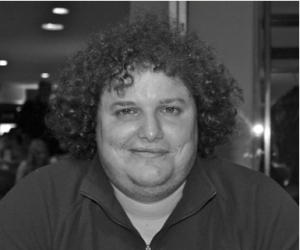 From: All over the USA
Been here: Almost four years
Lives in: Upper East Side
What made you come to the city?
Work-related. I went to graduate school at Cornell in Ithaca, NY and got increasingly interested in biology. No regrets. I love New York City, and I love life here at Rockefeller.
Would you spend your life here?
If I could, I would stay many more years, but if I ever had a family I would want to move somewhere else, since all of my friends who were kids in NYC are weirdos.
What do you want to do in New York before leaving?
Chinatown in Flushing, and I've always wanted to eat at the Spotted Pig.
Have you ever wanted to pack your bags and never come back?
My brother lives in South America, and I vacation with him every summer. When I'm out in the jungle, I get the urge to never come back. I doubt I'll flake out and move to the jungle though—I'd miss being able to want a falafel at three in the morning and actually get one.
What were you doing the last time you thought, "Wow, life here is great?"
Eating a falafel at 3am. Food aside, it'd be each time I go to a philharmonic concert. When I moved here, it was just the New York harmonic. I go so often; they made it the PHILharmonic.
What is the most memorable experience you've had in the city?
I went to see Mahler's 9th Symphony at the Philharmonic, and they stopped playing during the fourth movement because a guy's cell phone was going off. I thought there was going to be a riot—it was in the papers the next day. I feel a new level of terror walking in there with a cell phone. I take the battery out now.
Do you have a favorite café? Bar? Restaurant? Burger joint?
Café: Gimme! Coffee in SoHo. It's the New York City branch of an Ithaca, NY coffee shop from my days at Cornell. Bar: Aside from Faculty Club, it's Dutch Kills, a cocktail place with amazing drinks. It's in Queens, so it's not crowded and noisy, and it's relatively cheap. Restaurant: Taqueria y Fonda on the Upper West Side. Burger: Shake Shack. Hands-down, period.
How do you feel about the calories-on-menus law?
I find that policy creepy and Orwellian, but it's probably ultimately good for people.
Are you going to vote in the mayoral elections?
No. I don't really know or generally care about New York City politics, and I don't believe in voting—it's a meaningless act. I think the world would be better if more people were apathetic about politics.
Finally, what is your favorite New York-based movie?
Escape from New York.