Guadalupe Astorga
This month Natural Selections interviews Kipchirchir Bitok, Postdoctoral Associate.
How long have you been living in the New York area? 
Five years now.
Where do you currently live?  Which is your favorite neighborhood?
I first moved to Brooklyn before I came to the Rockefeller housing. I like the Upper East Side, because it's convenient to go to work, I can go running to the Central Park and the East River esplanade, Randall's Island, even Brooklyn. You also have access to several subway lines, so it's very convenient.
What do you think is the most overrated thing in the city? And underrated? 
Overrated, I think is the subway. It's always crowded and delayed. I like the Citi Bikes over the subways. Underrated, the diversity of the city, there's people from all over the world, and a great variety of food. I really enjoy meeting people from far countries.
What do you miss most when you are out of town? 
Even if I think the subway is overrated, I miss it when I'm out of town. When I go to a city without a subway I really miss it.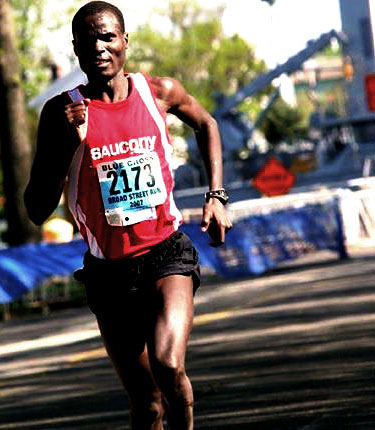 Has anything (negative or positive) changed about you since you became one of us New Yorkers?
Not really, I can't think of anything negative or positive that has changed. I thought I wouldn't like the city because it would be overwhelming. But, I really like it now, and I know how to navigate the jungle, so that's positive.
If you could change one thing about NYC, what would that be?
Pay fewer taxes. I feel I pay too much in taxes and get little out of it.
What is your favorite weekend activity in NYC?
I like finding hidden places with delicious food, I like to walk around different places, do my groceries. I like to run on bridges all around the city. I also enjoy getting out of the city and to go hiking.
What is the most memorable experience you have had in NYC?  
When my parents came, I enjoyed showing them the city and watching their surprise was a great experience.
Bike, MTA or walk it?
Run!
If you could live anywhere else, where would that be? 
I would live outside the city. I like the area of Mountain Lake, upstate. The city can be overwhelming.
Do you think of yourself as a New Yorker?
Oh, yeah!