To celebrate his retirement, this Month Natural Selections reprints an interview with Patrick Griffin, former Manager of the Faculty and Student Club. Country of origin: Ireland. The original interview was published in the April 2009 issue.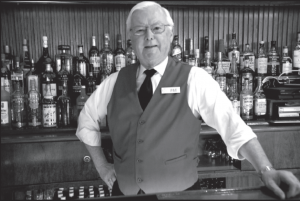 How long have you been living in New York?
50 years
Where do you live?
Bronx
Which is your favorite neighborhood?
Woodlawn, Bronx.
What do you think is the most overrated thing in the city? And underrated?
Tavern on the Green Restaurant is the most overrated thing in the city. NYC Transit System is the most underrated.
What do you miss most when you are out of town?
Convenience of the transportation system.
If you could change one thing about NYC, what would that be?
Traffic congestion.
Describe a perfect weekend in NYC.
Staying at the Regency Hotel; eating at top rated restaurants; visit museums and dancing at the Regency Ballroom in the evening.
What is the most memorable experience you have had in NYC?
Closing a bar one summer night. My last two customers were leaving. As I got to the door to let them out, they put a pistol at each of my temples and robbed me. Before they left, they handcuffed me to a steam pipe, with regular police handcuffs. Somehow I was able to break loose and call the police.
If you could live anywhere else, where would that be?
Ireland.
Do you think of yourself as a New Yorker? Why?
Yes, because I think NYC is the greatest city in the world.