By Susan Russo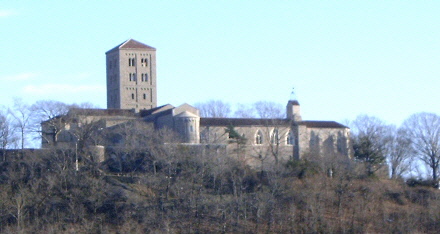 In Fort Tryon Park, overlooking the Hudson River in uptown Manhattan, through December 8th, an extraordinary sound installation is being presented at the Cloisters, a branch of New York's Metropolitan Museum of Art, which houses rare and beautiful medieval treasures. Recorded by the Canadian-born artist Janet Cardiff, The Salisbury Cathedral Choir in England performs Thomas Tallis's motet Spem in alium. Tallis, born in England around 1505, was an organist and composer for churches and royalty from Henry VIII through Elizabeth I.  What makes this event unique is that Ms. Cardiff used individual microphones to record each of the singers. At the Cloisters, in the Fuentidueña Chapel, on permanent loan from the Spanish government, individual parts and voices are played through 40 speakers. This allows the visitor to move around the chapel to hear different parts distinctly while walking past each speaker, or visitors can sit on wooden benches in the middle of the chapel to experience the sound as a whole. The 11-minute work is played continuously throughout the day. On the day a friend and I visited, we were both moved in a way that is difficult to put into words. The New York Times called the presentation "achingly beautiful."
The exterior of the Cloisters was built and opened 75 years ago, at the behest of John D. Rockefeller, Jr. The interiors, salvaged remains of medieval church structures, such as cloisters, chapels and simple assembly rooms, were augmented by meticulous reconstructions to match the original architecture. The collection includes statuary carved from wood and stone, objects of gold and precious gems, illuminated manuscripts, magnificent tapestries, including the Unicorn Tapestries, as well as everyday objects, such as metal and pottery dishware and even playing cards from the Middle Ages. One of the oldest pieces is a Visigoth sarcophagus from around 800 A.D., which is thought to have been used later as a baptismal font or a watering trough. The museum includes several gardens, planted with flowers, trees and herbs from the Middle Ages. During winter, many of the plants are brought inside to protect them and decorate the interiors.
The Cloisters is open every day from 10am to 4:45pm, and can be reached via the M4-Cloisters Madison Avenue bus (nearest stop is RU 63rd and Madison), which drops you at the front door of the Cloisters. This routing takes around 75 minutes.  An alternate route is the M31 bus (64th and York Avenue) to 57th and Broadway, with a two-block walk to Columbus Circle, for the subway, the uptown A-Inwood train which will take you to the exit at 190th Street. From that stop, there is a five to ten minute walk through beautiful Fort Tryon Park—the path is clearly marked. This route takes around one hour, but adds the cost of two Metrocard fares.
Admission to the museum is (recommended) $25 for adults; $17 for seniors, $12 for students, and free for children under 12. However, please note that the "pay what you wish" policy is still in effect. The ticket-takers courteously accept any payment that is offered. Good news for RU students and postdocs is that a pass for free admission to the Metropolitan Museum and to the Cloisters is available from the Dean's Office, with a deposit of $20, which will be returned to you on return of the pass.
One caveat for the physically challenged and those with strollers: the museum's many rooms are connected by a number of short flights of stairs.