Aileen Marshall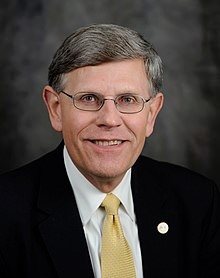 Kelvin Droegemeier, November 19, 2014. Credit: Wikimedia Commons
On July 31 of this year, Trump nominated Kelvin Droegemeier, a meteorologist, for Director of the White House Office of Science and Technology Policy.  This position has been vacant for 19 months since Trump took office, an unprecedented length of time. At this time, Droegeimeir will need to be confirmed by the Senate.
Droegemeier, age 60, was born and raised in Kansas, and earned a bachelor's in meteorology from the University of Oklahoma in 1980. He received a master's in atmospheric science in 1982 at the University of Illinois Urbana-Champaign, and then a Ph.D. in the same field there in 1985. That same year, he joined the faculty at the University of Oklahoma and became their Vice President of Research in 2009.
Most of the work over his career has been developing ways to use computers and other technology to predict severe weather events, particularly for businesses. He has been active with the National Science Foundation (NSF), a government agency that supports scientific research and awards grants. In 1989, he started the NSF's Center for Analysis and Prediction of Storms. He was that Center's director from 1994 to 2006. In 2000, he started his own private company, Weather Decisions Technologies, which now has offices worldwide. He founded the Engineering Research Center for Collaborative Adaptive Sensing of the Atmosphere at the NSF in 2003. He was that center's deputy director from 2006 to 2012. He was appointed to the National Science Board, which oversees the National Science Foundation, and acts as advisors to the president and congress, in 2004 and 2011, under both Presidents George W. Bush and Barak Obama, and was the board vice chairman from 2012 to 2016.
At the University of Oklahoma, Droegemeier created the Sasaki Institute to develop "application and knowledge, policy and advanced technology for the mutual benefit of the government, academic and private sectors." He also established a supercomputing center there. According to his biography at the National Science Board, Droegemeier has more than 75 journal articles and book chapters, and over 200 conference publications. He has worked as a consultant to several companies, including American Airlines, Continental Airlines, Honeywell, as well as with the National Transportation and Safety Board. He is currently Oklahoma's Secretary of Science and Technology and on a state committee to encourage the growth of private weather companies.
Last year, Droegemeier wrote an editorial to the Des Moines Register encouraging federal research funding. "Though the benefits of short-term savings in the yearly federal budgets may be appealing, they result in insidious, long-term consequences…. Our country is losing ground rapidly to other nations…Due to underfunding, we risk losing an entire generation of researchers… Balanced, predictable and stable funding, is essential for the United States to remain a world leader in research and a translator of research outcomes into practical products and services that benefit all of our citizens."
Reactions to his nomination by his peers have been positive. John Holdren, Ph.D., a previous director of the Office of Science and Technology Policy, called Droegemeier "a solid choice." He said that Droegemeier was a serious climate scientist and advisor. Kei Koizumi, who previously worked with Droegemeier, while working at the Office of Science and Technology Policy, said that "He is an excellent scientist, communicator, and public servant, and therefore a superb choice to be the next director of OSTP." Roger Wakimoto is the President of the American Meteorological Society and has known Droegemeier for many years. He said that Droegemeier "has often been the voice of reason with indisputable and comprehensive facts at congressional hearings and other venues….I give him my unqualified support."
So far, during his Senate committee hearings, Droegemeier has strongly supported keeping science free of political influence and sexual harassment. He said that having researchers from other countries is an important part of science, but should be done "with care".  He has avoided a response when asked about climate change. Droegemeier is expected to have his full Senate confirmation hearings starting the last week of September.