by Aileen Marshall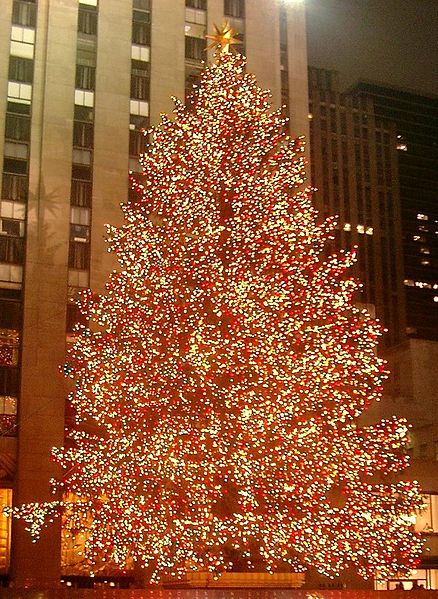 Like the old song says, the "city sidewalks, busy sidewalks" are "dressed in holiday style." Besides the hustle and bustle of this busy shopping season, New York has many time-honored holiday activities.  Here are just a few to help you feel that holiday cheer.
The gigantic tree at Rockefeller Center is an impressive sight for young and old alike. Every year, a huge evergreen is selected and transported to Rockefeller Center, on 5th Avenue between 49th and 50th Streets. It is set up behind the Prometheus sculpture next to the ice skating rink, strung with almost five miles of lights and topped with a Swarovski crystal star. The tree lighting ceremony is usually the Tuesday after Thanksgiving, typically with a few celebrities and a known figure skater. Even though the ceremony will have passed by press time, the tree is still lit daily from 5:30 a.m. to 11:30 p.m. except on Christmas, when the lights are on all day. The area can be very crowded with tourists, so the best way to see the tree is to go skating on the rink. Looking up at the beautiful tree and the tall buildings from the rink is an experience not to be missed. Admission is $27 for adults and $15 for children. Sessions usually last about two hours, starting from 8:30 a.m. to 10:30 p.m. Visit www.therinkatrockcenter.com for more information.
For generations it has been a New York family tradition to see the Christmas displays in several department store windows. Some displays are animated; some have a scene from a story in each window. Although there are not as many as in past years, the stores that still have holiday displays today are Bloomingdale's (Lexington Avenue at 59th Street), Barney's (Madison Avenue at 60th Street), Bergdorf's (Fifth Avenue at 58th Street) Saks Fifth Avenue (5th Avenue at 49th Street), Lord and Taylor's (5th Avenue at 38th Street), and Macy's (34th Street at Broadway). Be aware that there can be long lines on weekends. Macy's also has Santaland on the 8th floor where Santa is in residence from the end of November until Christmas Eve. Children can sit on his lap, make their request, and get a photo their parents can embarrass them with in their teenage years. You can go to Macy's at www.macys.com.
Another well-established holiday event is Balanchine's The Nutcracker. This well-loved ballet, with Tchaikovsky's score, will be performed at the New York State Theater at Lincoln Center. The story is of little Clara and her adored nutcracker, which transports her to a dreamland filled with fantastical scenes, including the battle with the giant mice and the dance of the Sugar Plum Fairy. Watch for the Christmas tree growing out of the stage! The New York City Ballet shows run from November 29 until January 4 next year. Ticket prices range from $29 to $229. Go to www.nycballet.com for specifics.
Probably the most popular holiday event is the Radio City Christmas Spectacular. This holiday pageant is most known for the famous Rockettes with their precision legwork and march of the toy soldiers. In recent years the show also includes a 3D segment and skaters on stage on their own little ice pond. The show is at Radio City Music Hall, on 6th Avenue at 50th Street. Tickets range from $39 to $225 for performances through December 30. Go to http://www.radiocity.com/eventcalendar/home for additional information.
For some less crowded activities, one can go see the annual Christmas tree and Neapolitan Baroque Crèche at the Metropolitan Museum of Art, on 5th Avenue at 82nd Street. Eighteenth century Neapolitan angels and cherubs decorate this large and beautiful tree. Recorded music adds to the atmosphere. There is a lighting ceremony on Friday and Saturday nights at 7:00 p.m. The tree is located on the first floor of the museum, in the Medieval Art section, from November 20 until January 6. There is also a concert series during the same time. More details about the display can be found at www.metmuseum.org.
Another off-the-beaten-path event is the 33rd Annual Winter Solstice Celebration at the Cathedral of St. John the Divine, on Amsterdam Avenue at 112th Street. The Paul Winter Consort performs in one of the oldest churches in the city. The concert this year is on December 19 through 21. Tickets range from $35 to $90. There is also A Cathedral Christmas Concert on December 14. Tickets can be purchased at www.stjohndivine.org.
A performance of Handel's Messiah will be held at the New York Philharmonic on December 17 through 21. Tickets run from $30 to $122. Go to www.nyphil.org for more information. The Messiah is also traditionally presented at Carnegie Hall. There are several performances, put on by the Oratorio Society of New York, the Masterworks Chorus, Musica Sacra, and The Cecilia Chorus of New York. Go to www.carnegiehall.org for more information.
After reading about all these activities, can't you just hear those "Silver bells… silver bells…?"