By Qiong Wang
Living in New York, most of us often find ourselves trapped inside concrete jungles, busy and occupied all the time. Sunshine and the view in the distance from our windows are often blocked bluntly by another building. On the subways, we look down, napping or playing with cell phones, avoiding eye contact. We talk fast, walk fast, eat fast-food and couldn't go through a day without our caffeine shot. Slowly, we start to forget the world outside, a world that is organic and original.
One day, I stopped by the Employee Art Exhibition on my way to get lunch in the Weiss lobby. A series of acrylic paintings caught my attention. There was a vivid giant lion head about to leap out of the paper with his fur standing on end and both eyes gazing ahead; a baboon mother watching her baby playing in the grass; an elephant enjoying his shadow in the river with his ears wide open and a majestic giraffe sticking her head above and over tree leaves against the blue sky. I was very impressed by the painting's details, the strokes, the color, the light and shadow, and the background. More so, I could feel there were feelings and stories behind these paintings and I was compelled to find out more about them. On the 13th floor of Weiss, I met up with the artist, Dr. Bruce McEwen, a distinguished neuroendocrinologist, in his office.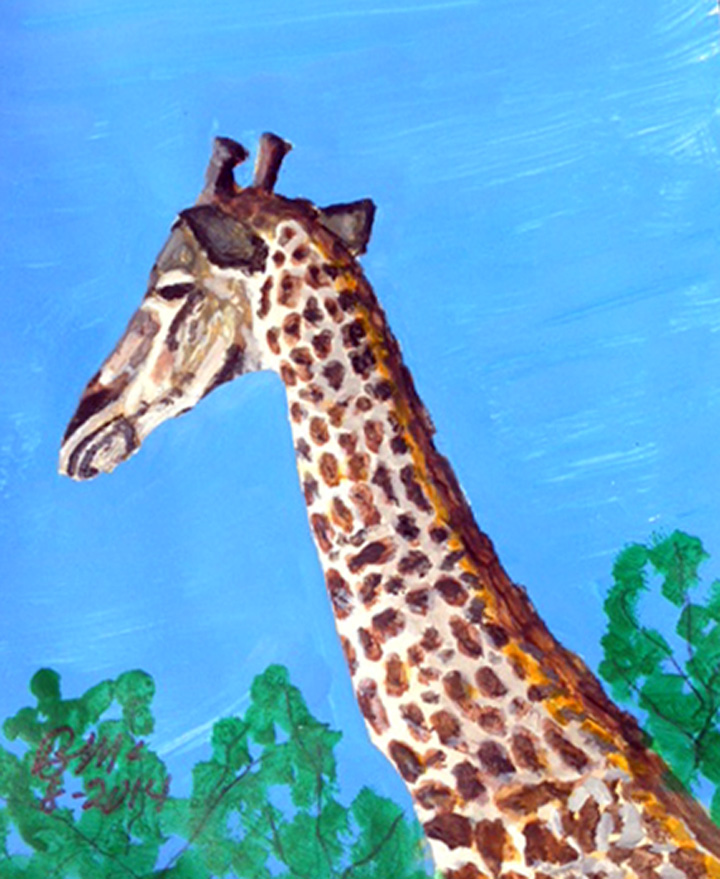 Acquired somewhat from his heritage, Dr. McEwen has enjoyed drawing since his childhood. He started painting about 15 years ago, starting with water colors. In recent years, he fell in love with acrylic painting. His paintings in the exhibition were inspired by his wife's wonderful photography, which was also on exhibit. Both Bruce and his wife, Dr. Karen Bulloch, are talented artists who make a variety of art pieces in their leisure. In the summer of 2014, they went on safari in southern Africa with a group of scholars. Being a travel lover, I immediately became fascinated with their safari experience. It was the couple's first trip to Africa and a trip like never before. They had never been in such close proximity to hippos, rhinos, lions, giraffes, and even at the mercy of a charging elephant. The reality of seeing these animals, Dr. McEwen said, was surreal, completely different from visiting a zoo. It felt like Jurassic Park. In the safari park, the couple was covered in dust every day. Tourists were tucked in the back of open trucks covered only with metal fences. Wild animals could care less about human presence, especially when there are prey in sight. It seems quite certain that they assume the leading roles, and tourists are just extras. Locals have to learn to co-exist with these wild animals, protecting themselves and sharing resources. It is a real eco-system, a world where hyenas tear a giraffe apart and share dinner among themselves.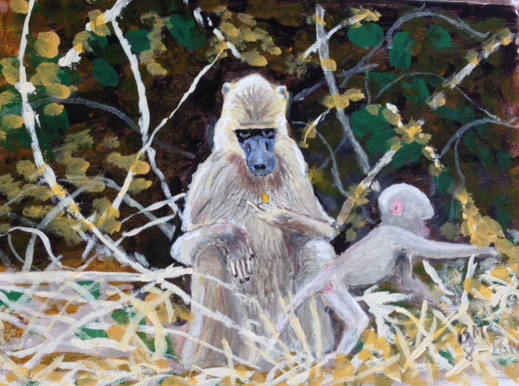 Unfortunately, these animals' real enemies are not themselves, but humans. To date, there are still many greedy, selfish slaughterers out there killing elephants for bloody profit. Bruce told me that the safari security personnel were equipped with guns not to protect visitors per se, but to defend wild animals against any illegal hunting.
What struck the couple most and brought them to deep reflection and awareness is the extreme gap between rich and poor and the importance of the middle class. They visited several village schools made of adobe and wouldn't soon forget the expression of excitement on the faces of those school kids when given a soccer ball. "They were all very smart," Dr. McEwen said, "We don't realize how much we have." As a matter of fact, Karen, a fantastic photographer, captured and documented some precious moments of their school visit on film, which were also on view as part of the exhibit in Weiss lobby. The couple has made and kept a connection with local schools there and they sincerely hope their continuous outreach arrives soundly in the hands of those in need in the future.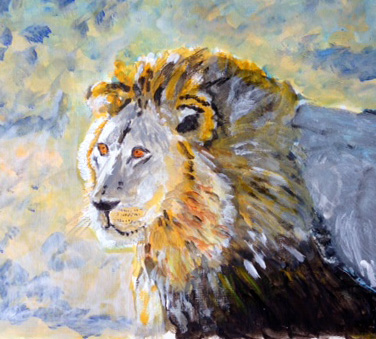 My conversation with Dr. McEwen had to end, but it lit up my dream of Africa. Although seemingly a far-reach right now, one day it can happen, and it will happen. Once deeply enchanted by the classic film Out of Africa, I can't wait to step into Africa, to soul-search, to feel, to perceive and to understand simple happiness in life.