Interview with a Curator: Michelle Tolini Finamore of the Museum of Fine Arts, Boston
By Bernie Langs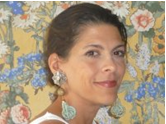 Michelle Tolini Finamore is Curator of Fashion Arts at the Museum of Fine Arts, Boston, and she has written a fascinating and wonderful new book, "Hollywood Before Glamour: Fashion in American Silent Film," that I started to read recently. The writing style and tone of the book are scholarly yet very approachable and lead the reader through a world of fashion as art that is rarely explored. Through a friend, I was able to track down the enthusiastic Ms. Finamore for an email interview on the challenges of being a curator and on her new book. As I was preparing this article, Ms. Finamore was mentioned in the Wall Street Journal for the fine work she did on preparing the Museum's new fashion exhibition, "Think Pink."
How difficult is it to reach the level of curator at a major museum? How intense was your educational process?
Well, my trajectory was not always a direct one, but my interest in art and design history is the unifying thread. A trip to the Museum of Fine Arts, Boston as a young girl to see an Impressionist exhibition was a transformative moment for me. While studying art history as an undergrad, I had a museum internship in the costume and textile department at the Rhode Island School of Design (RISD) Museum. I was extremely fortunate to find a museum job right after graduation and that set me on the path that led me to where I am today—which is what I consider a dream job. I did have a couple diversions into the auction world and teaching but I knew I would always return to museums. It is not required to have a Ph.D. to be a curator, but advanced degrees are becoming the norm and a master's level degree is certainly the minimum these days. For me, furthering my studies to the Ph.D. level was a true pleasure because I really wanted to delve more deeply into fashion history. Throughout graduate school, I stayed involved in the museum field with part-time work at various places, including the Metropolitan Museum of Art, which helped me stay abreast of the field and make connections that are still important to me today.
When preparing to put on an exhibition, can you walk us through the process a little—how do you borrow from other institutions and private collections; are there insurance issues, who does the research for the placards and writes the catalogue?
Curating an exhibition is a complex process and most exhibitions take a number of years to plan and implement. At a large museum like the Museum of Fine Arts, Boston, it involves staff in many departments, including curatorial, registration, conservation, design, marketing, etc.  The curator is primarily responsible for the exhibition's concept, organization, art selection, label writing and catalogue text, and is involved in the design and mounting of the show as well. The amount of time it takes to organize an exhibit varies according to its scale, if the show will travel to other institutions, if the objects are drawn from the museum's permanent collections, and/or if they are being borrowed from other institutions and private collectors. Borrowing objects can be lengthy and involved because of the paperwork, shipping, crating, and insurance, and sometimes those costs alone can determine whether or not you will ultimately include a work in an exhibition.
You were a research assistant for the Metropolitan Museum's exhibition in 2001 called "Jacqueline Kennedy: The White House Years." What were your responsibilities for this interesting show? How was the attendance?
That exhibition was a wonderful opportunity for me and I felt quite honored to be involved in the first exhibition addressing the evolution of Jacqueline Kennedy's distinctive style, which was a mix of her unique personal aesthetic and a carefully constructed public image. I assisted the curator Hamish Bowles with research related to specific pieces in the show, which ranged from the appropriate name for a particular type of textile or dress embellishment to more specific information on a design house. All of these details have to be just right for such a major exhibition and publication, especially if the catalog will become the standard reference on the subject. As you might expect, attendance was phenomenal, helped by its traveling to the JFK Library in Boston and the Corcoran Gallery of Art in Washington, DC.
Your new book, "Hollywood Before Glamour," is academic, yet reads so smoothly and easily, carrying the reader along. It is filled with scholarly observations, footnotes, and great anecdotes. How many years did it take you to write it? Did it grow out of your dissertation?
The book was based on my dissertation, so the research and writing took many, many years. I was conducting the research on a part-time basis while working and starting a family, so it was probably a total of about four years of research. The research was such fun—I traveled to film archives and libraries in so many different places: the British Film Institute, the Library of Congress, the Margaret Herrick Library of the Academy of Motion Picture Arts and Sciences, the Harry Ransom Center in Austin, and the George Eastman House, among others. Watching the only copy of a rare film on a flatbed viewer and being the first to look at these films from a fashion perspective was wonderful—it filled me with a real sense of discovery. The writing, which is always more challenging than the research, took about another three years, again on a part-time basis while I was teaching or doing museum work.
One focus and theme of the book explores the ideas of film and fantasy. In both your introduction and closing chapter you mention the work of the 20th century writer and philosopher Walter Benjamin, a true visionary who saw how modern society was changing the course of aesthetics and how the industrial age made it necessary to reassess the arts anew; he also wrote about film in a new light. What drew you to Benjamin and do you think you might develop further his ideas to your own on the subject of fashion?
I have been a fan of Walter Benjamin for quite some time and I continually revisit his work and find observations that can readily be applied not only to the fashion of his own time but also to fashion of the present. His insights in both his published essays and his great unfinished work The Arcades Project are so prescient. Phantasmagoria, for example, originally referred to the 18th and 19th century magic lantern slides that preceded the moving image, and Benjamin used the concept as a jumping off point to explore commodity culture and fantasy—and so it perfectly aligns with film and fashion. Although today we have serious academic study of popular culture, he looked at these media as expressions of broader social phenomena—and this was in the 1930s! In many ways, it has taken quite a bit of time for the field of fashion history to catch up to his ideas.
How do you reconcile the idea of fashion as an art worthy of the major museums of the world and the fashion culture of runway shows and models and fashion magazines? Is that a fair question?
I think that fashion, like any other medium, be it painting or sculpture or architecture or design, is a reflection of its time, its place, and its cultural and aesthetic milieu. And yet, it is also a deeply personal and intimate medium—which makes it all that more fascinating to me. The way I interpret fashion does not differ if I am looking at an eighteenth-century man's court suit or a twenty-first century dress made on a 3D printer by a contemporary designer. As a fashion curator, I feel I have to strike a delicate balance between contemporary views of fashion and its place in history. I think of fashion as a wonderful "in" for museum visitors because they are wearing it, consuming it, and they are surrounded by images of it. So they enter a museum with that base knowledge and one of my challenges is to figure out how to connect the clothing of the present to its history in a compelling way. I try to do this with the exhibitions I curate by including a mélange of media that moves across time.  For example, my latest exhibit—Think Pink—is primarily a fashion exhibition, but incorporates painting, prints, books, postcards, photography, accessories and fashion. The exhibition starts in the eighteenth century but includes contemporary fashion to explore issues of gender and design.