Visiting Hemingway's House in Key West
By Bernie Langs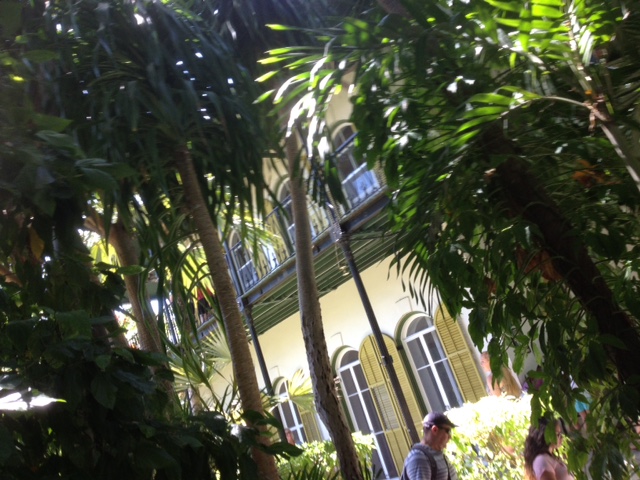 Views of the Key West home of Ernest Hemingway (photos by BL)
After shopping on Duval Street in Key West, Florida on a hot and beautiful day in late April, my wife and I were guided by our closest friends through back roads to The Hemingway Home and Museum to visit the house where the famed author spent most of the 1930s producing some of his best written works. This was my first visit to Key West and the anticipated imaginings of how it would look had missed the mark. The closely placed houses on the streets leading to "Papa's" abode all had beautifully manicured small yards boasting fabulous and unique trees. The local vegetation had a scintillating quality to it and the leaves of the palm trees swayed slowly, dancing to the beat of the occasional wind. The serene atmosphere primed us for the grounds where Ernest Hemingway had lived.
We entered the house and set out for a tour of the property. Our guide was a colorful character who had probably given the same prepared speech from room to room hundreds of times over the years. She had a peculiar, yet engaging, Southern drawl and although she was restrained, she exuded a continuous enthusiasm for her subject. I found her dry jokes about Hemingway and his antics truly engaging as our group learned about Hemingway's life, his four wives, his children, and about his many passions for drinking, deep-sea fishing, travel, and general debauchery. I had learned a bit of this, as many of us do, in school, but the sense of the man as an individual was enhanced by being surrounded by the things he'd actually lived with and experienced.
A highlight of the visit was the up-close look at the beautiful swimming pool on the grounds, which is surrounded by various trees and shrubs. It was the first pool built in Key West and the largest at the time for many miles. Our guide told the story of Hemingway's wife, Pauline, who had put the swimming pool in, to his distress, the costs ran up to $20,000 ($330,000 today adjusted by inflation). It is said he tossed a penny at her, angrily declaring that she'd take his very last penny. She retaliated by imbedding the penny in the still wet cement of the patio and it's there to this day for tourists like myself to gaze at in amusement.
The main house itself is fairly sparse in terms of furnishings, yet it exudes the great time-worn flavor of an era long past. Hemingway's actual writing studio is found on the second floor of a smaller, adjacent building. This room was the highlight of my visit. It's much more built up and decorated than the living quarters, with bookshelves, wall hangings, and a fine, wooden table with a black typewriter placed on it in front of a chair. Hemingway, perpetually aching from a shrapnel war wound from younger days, would stand as he wrote to alleviate his chronic pain. The studio is cordoned off by a high black grating behind which one can clearly view where Hemingway gave life to his ideas and imagination. Although so much of Hemingway's life was marred by emotional turmoil and physical pain from incessant injuries including those resembling war, plane accidents, falls, etc, his writing studio boasts an atmosphere of clarity and seriousness. On the other hand, the sunshine of Key West and the vegetation of the grounds of the house may have lightened the load of the Nobel Laureate so that he could see past the darkness and do what he was compelled to do best at that typewriter.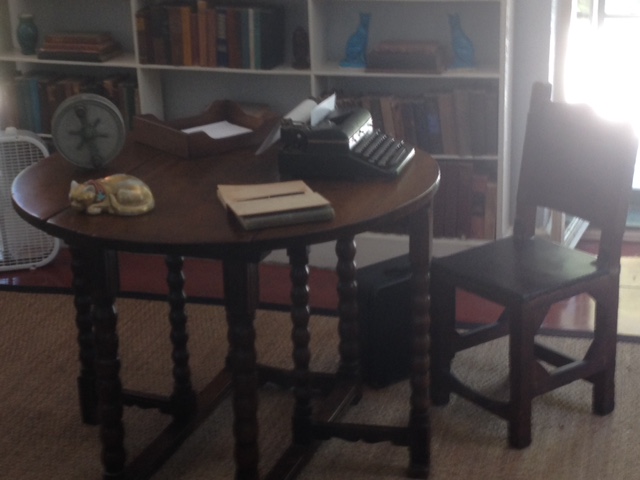 The Hemingway House, as it is popularly known, is also the famous stomping ground for dozens of cats that are descendants of Papa's original herd of uniquely six-toed felines. That's a lot of cats for grounds of just an acre or so (yet this is a large plot size for Key West homes). The kitties manage however, to spread out and about on the property.
Ernest Hemingway died in 1961 at his home in Idaho from what is often described as a "self-included wound," that being a euphemism for blowing his head off with one of his favorite shotguns. Our guide on the tour informed us that he'd suffered from bi-polar disorder and had received shock treatments that left him unable to practice his craft. I can still recall being a child and witnessing my parents' grief on learning the details of his death from news reports.
I read Hemingway's "For Whom the Bell Tolls" and "The Old Man and the Sea" during my high school and college years. In the 1980s I also read some of his more rustic short stories, part of a large volume of his collected short works. I never bought into the macho bravado of big game hunting or watching bullfights or getting into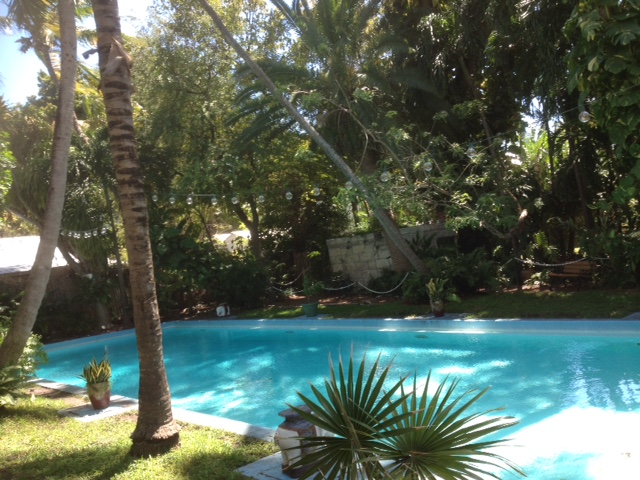 drunken scraps that are associated with the Hemingway brand. But by visiting his house and basking in the kind sunlight of Key West, it was a privilege to gain a glimpse of where a true American Master worked at his best and lived large in the downtime when he was not practicing his craft. I would feel venture that many of the guests to The Hemingway Home and Museum exit the grounds with a strong feeling of inspiration, whether they pursue creative practices or just have a passion and lust for life to be lived to the fullest.