Theater Review: "LOVE" performed by Cirque du Soleil at the Mirage Hotel, Las Vegas, Nevada, February 16, 2015
By Bernie Langs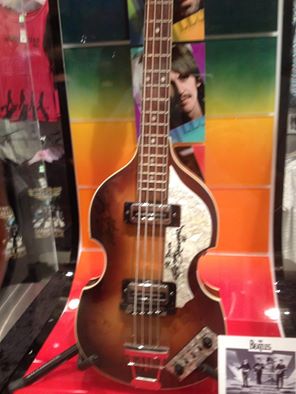 A Hofner bass guitar signed by all four Beatles displayed outside the "LOVE" theater at the Mirage Hotel (photo: B.L.)
When I told a musician friend of mine that I would be in Las Vegas for a few days in February, he insisted that while there I check out the Cirque du Soleil troupe's interpretation of the Beatles' music entitled "LOVE" that he had found to be an astounding theatrical tour de force. I knew some of the music from the show from the soundtrack released some years back produced by George Martin and his son, Giles. I'd even chanced upon a cable television airing of the film documentary chronicling the making of the show, but had quickly turned it off after witnessing the late John Lennon's wife making strong suggestions to the show's director during early rehearsals. Yoko Ono had already made far too many suggestions for Beatles' affairs, in my opinion. Yet, I knew the music for "LOVE" to be a brilliantly conceived mash-up of Beatles' tunes, taking a snippet from one song and tagging it to another or several others. In the case of the late George Harrison's "While My Guitar Gently Weeps," they added a lovely string arrangement to his melancholy demo of the song.
But Cirque du Soleil? Wasn't it just high wire, trapeze tricks by pantomiming performers? I told my friend, whom I've known since the time when the Beatles were an active band, that I'd pass on going to the show. Knowing how highly I regarded the Beatles, he replied, "You will love it. If you do not go, I will find you and I will hurt you. You have to go."
Thus so gently persuaded to attend, I am glad to say I have escaped that threat of bodily harm and even happier to report that "LOVE" as performed by Cirque du Soleil is a beautiful, exciting, musically profound, and dare I say, loving phenomenon. It is more than a show, it truly is an experience to behold in many ways. George and Giles Martin were instrumental in designing the sound system for the Beatles' amalgamated music and I've read that there are over 100 speakers placed around the theater, including three in each of the individual, cushioned, high-back seats. I would sometimes shift in my seat to play the sound in my chair to the best effect. Beyond any studio album recorded by the group, beyond their television performances, or even the ballpark house speakers at their Shea Stadium show in 1965, this is the way Beatles' music should be heard. The volume was loud, but not too loud. It surrounded one and became all encompassing, but not uncomfortably overwhelming, and for any Beatles' fan, it could only lead to a state of bliss. It was like receiving wave after wave of pure joy.
How wrong I was about the mechanics of a live show by Cirque de Soleil. The performers are modern dancers, often undertaking straight out dance moves in various styles or doing their tasteful acrobatic feats in incredibly difficult fashions, including the use of high wires and trampolines. They are in complete tune not only to the beats and rhythms of the Beatles, but to their essence and soul, and very much on target with their original spirit. I was seven years old when the Beatles hit US radio and television, and thirteen when they split up. I was witness to their living spirit, which can never be completely captured again by anything produced since 1970. "LOVE" is as close to a witness of their time and unique manner as I have ever experienced.
Some of the best musical mash-ups for me were the superimposing of the guitar solo of "Tax Man" onto the middle section of "Drive My Car" while the latter tune is mixed with "What You're Doing," and "The Word." I also enjoyed the splattered sound bites that pepper the show's opening number "Get Back" where the troupe, on the $100 million stage built in the round, did a joyful burst of great rock 'n' roll dancing with blissful abandon. I found the triumphant song to be the mixing of two of Lennon's tunes, "Being for the Benefit of Mr. Kite" and "I Want You (She's So Heavy)," the latter with its haunting, lengthy finale of overlapping guitars, combined with the chilling primal screams of Paul McCartney isolated from his agonizing song "Helter Skelter." I don't think that even the choral wall of sound of the final movement of Beethoven's Ninth Symphony can compare. "Ode to Joy" indeed.
"LOVE" lends itself to many visits since there are several easy plot lines that come and go, often concurrently. The complex stage and video screens also have so much action most of the time, that if you went each night for a week, you probably could never view the same thing twice. Of course, the price of the ticket is pretty steep, and in addition, you have to fly all the way out to Las Vegas to attend the show! In any case, I would venture to say that it's truly an experience that shouldn't be missed by fans of the Beatles and music fans in general. From the feats of the performers to the mix of the music, one sits back with a smile and wonders "How did they do that?" Pretty much what I often wonder about the Beatles themselves, both technically when listening to their songs and their enduring positive persona and fabulous depth of soul.