Camila Cabello's Havana Wows Pop Music
Bernie Langs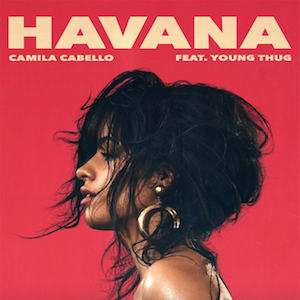 Photo: Sony Music Entertainment
The first time I heard the pop song Havana by Cuban-American recording artist Camila Cabello was on a radio tuned to one of my 20-year-old daughter's stations. I was immediately floored by the the great groove and the unusually complex, smooth, and melodic vocals. I've lamented for many years that most contemporary rock and pop songs bounce back between two or three chords and depend on singing lines that border on the monotonous. I've also long held the opinion that the main concern in today's music is tilted towards the emotional state of the lead singer, too often an expressive lament over a broken relationship or other adolescent issues that have long ceased to concern, amuse, or interest me. Therefore, as an old-school rock-and-roll geezer, my attention was pleasantly caught by Havana as it played that first time for me over the airwaves. When I got home, I located the song on Spotify and found it sounded even better on good audio speakers. My daughter popped into the room as I listened, informing me that she too loved the song, and suggested I find Cabello's version in English, rather than the Spanish one I was listening to. I had been so transfixed by the entirery of the music that it didn't register that I hadn't comprehended a word.
Havana was released in the summer of 2017 and was composed by Cabello and nine other writers. But the magic, along with her fantastic singing, is in the tune's brilliant production by Frank Dukes. Much of the song is done with just a few instruments, a minimalist and smart use of piano, horns, and creative bass playing. The bass line hits many wonderful lower fret notes, and they buzz and reverberate while remaining softly cool, calm, and completely unaggressive. Cabello's voice is stunning, displaying multi-faceted and multi-dimensional textures and emotions. The lead vocal is powerfully up front in the mix, teeming with a Latin pop feel expressing sensuality and confidence, along with a big dollop of subtle and clever humor. In the sections with just a sparse piano and bass accompaniment, her singing is bold and forceful. Each time I listen, I look forward to two of her well-produced vocal twirls in the melody, nailed by Cabello with delightfully awesome wonder and beauty. Her multi-tracked backing vocals are best listened to with good headphones with the singing "placed" and separated by producer Dukes to the far left and right sides of one's internal listening space, making it startling, fresh, and surprising every single time.
Soon after I fell for Havana, I read an interview with Cabello in Rolling Stone magazine and learned how she has deftly handled the social media attention and drama surrounding her leaving a girl group that we rock-and-roll geezers don't give an old man's hoot about. But she also spoke about choices and chances and more on the art and craft of music than many of her contemporaries about whom I've read interviews.
Last month, I hunted down the song's video, which is truly clever, downright funny, and does justice to the song. I've since learned that the video won many music industry awards and has been viewed 680 million times on YouTube. Cabello plays several roles in the short film, and there is a telenovela-in-a-video, a family sage-in-a-video, and a movie-in-a-video in Havana as well as other unexpectedly funny turns. Cabello's Spanish-speaking grandmother in the video is played by a bearded man wearing a wig and a nightgown and his heartfelt concern about Cabello's lonely, homebound alter-ego makes you forget it's a young man doing the worrying. There is a short rap break in the song performed by Young Thug that is tasteful and fits in well with the groove of the recording. Once again, the production makes the transition from Cabello's singing to the rap a seamless one, and Young Thug's appearance in the video works nicely within the framework of its many shifting themes.
Havana is the best song I've heard in twenty or thirty years. The only great rock and pop songs in recent memory for me have been by Joe Strummer and The Mescleros, which were composed and recorded between 1999 and 2002. Havana delights with each listening experience. As one who records and writes his own music, I find it inspiring on many levels, from composition, performance, and in cleverness and production. I hope to hear many more songs in the coming years from this young talent expressing her good vibes and playful humor. I recall that as a teenager in 1975, I read a music review in Rolling Stone by its editor, Jann Wenner, of a concert in Los Angeles by the Rolling Stones, which he felt was the best show of their entire tour at the time. The last line read something like, "For days I talked about it to anyone who would listen." Since hearing Havana I am doing the same, telling friends, colleagues at work, and even random strangers just how great this tune is.