Visiting Michelangelo's Sculptures in Florence
Bernie Langs
One of my personal goals during a late May 2018 visit to Florence, Italy was to view as many sculptures by Michelangelo as possible. Here is a rundown of my thoughts on some of the works that I saw.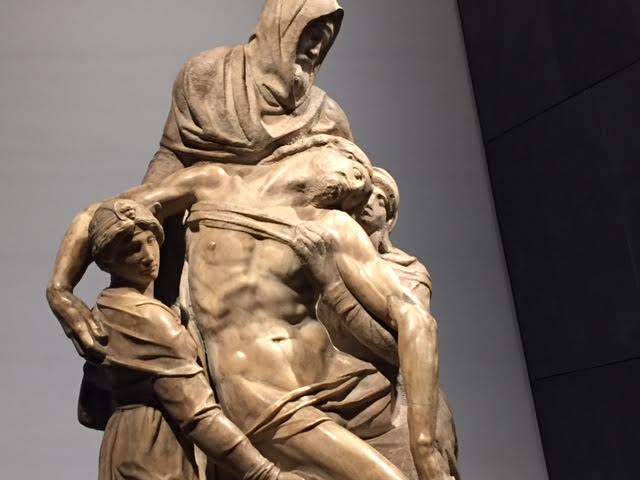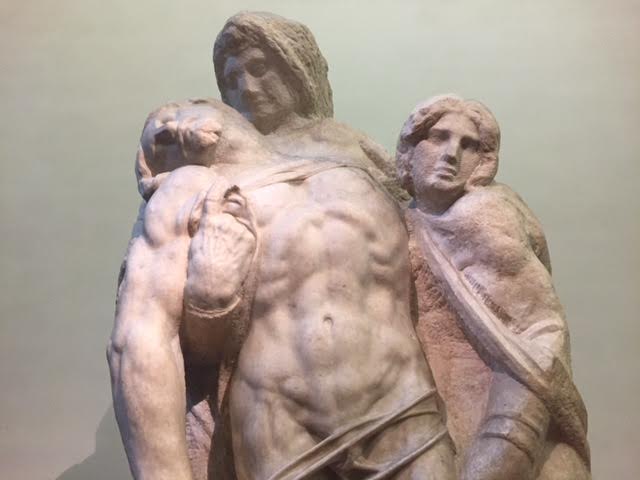 The Deposition at the Museo dell'Opera del Duomo and Palestrina Pietà at Galleria dell'Accademia
These two sorrowful scupltures are very much akin. The Depostion was created by Michelangelo originally for his own tomb and it is generally agreed that the hooded figure of Nicodemus carrying the body of the dead Christ is a self-portrait of the artist. It is a moving, emotionally strong work of art reflecting the deep-rooted inner pain suffered by Michelangelo. The sculpture seemingly begs to be read as a statement of profound religious ideals, but it can also be read as a harsh metaphor for mankind's turmoiled existence. The Palestrina Pietà is another study in grief, also depicting Christ in the moments after his death, this time supported by two figures, the one to his side most likely his mother, Mary. This sculpture is now attributed to Michelangelo, though may be a work he started that was later completed by another hand.
Museo nazionale del Bargello: Brutus, Bacchus, and Madonna ("Tondo Pitti"):
 Brutus is a fantastic marble bust depicting Julius Caesar's infamous assassin. Although Dante placed the ancient Roman far down in the depths of Hell, Michelangelo's work leans towards Brutus' heroic nature, mirroring the Florentine movement of Republicanism against the notion of tyranny, a perspective current to the artist's sphere. While many sculpted busts from the Renaissance, ancient Greece, and Imperial Rome illicit only an appreciative glance when I visit museums, the rough texture, turned head, and other features of Brutus compelled my extended meditation. Based on photos I've viewed in art history books, I had concerns about seeing Bacchus face-to-face, in the God of Wine's all-too-very naked flesh. I found the inebriated young man easier to view in person than in printed reproductions. At the Bargello, I was also delighted to encounter the gracefully sculpted Madonna (known as "Tondo Pitti"). It is one of the Master's emergent marble bas-reliefs and a study in nuance, poise, and gentle religious rendering. The sculpture is breathtaking in its simplicity and the stone's ethereal color.
Galleria dell'Accademia: David and The Bearded Slave
The big enchilada of Michelangelo's achievements and one of the most referenced works in all of art history, David, does not disappoint when encountered in a museum setting. The Master's creation is enormous in size and impossibly carved with a polished gleam. The youthful figure liberated by the artist from a block of marble into the absolutely stunning, striking image of the Biblical hero makes for an awe-inspiring personal encounter. While I found many other sculptures by Michelangelo more engaging on emotional and philosophical levels, David's undeniable beauty is quite enough for any viewer to experience joy in its presence. The Accademia lines the approach to David with several unfinished pieces that are grouped together under the heading of non-finito. The works garner less attention from many tourists than the colossal David at the end of the passageway. These odd, yet beautiful "slaves" or "prisoners" in varying twisted or turned poses offer great insight into Michelangelo's working process and showcase the tragic aspect in the forefront of many of his late works.
Casa Buonarroti: Madonna of the Steps and Battle of the Centaurs (detail)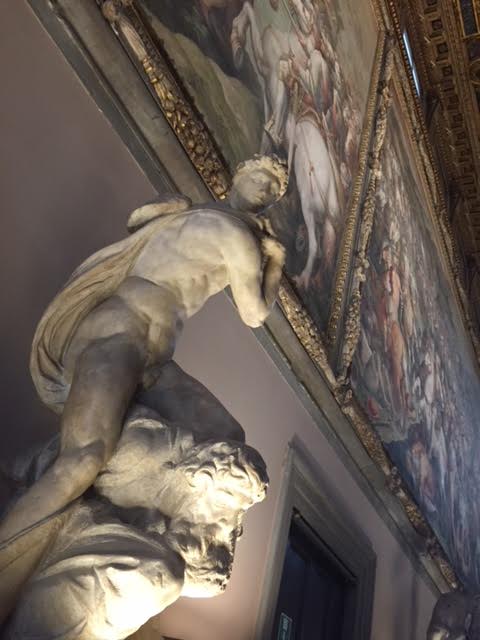 Palazzo Vecchio: Genius of Victory
I chanced upon Michelangelo's Genius of Victory while roaming through the huge chamber of the Palazzo Vechhio's Salone dei Cinquecento. One walks in the majestic space gaping at enormous military and battle frescos. It was beneath one of these paintings that this sculpture by Michelangelo drew my attention. This great work of art is made even greater because of where it is situated. Nestled along a wall below the massive, colorful frescoes, it is strategically placed in the company of several other monumental statues, including Vincenzo de' Rossi's Labors of Hercules. The Palazzo Vecchio was also the site where Michelangelo planned to paint and Leonardo da Vinci toiled unsuccessfully with "dueling" frescos that are now lost to history. David was also originally displayed in the outside courtyard of the Palazzo.
Museo delle Cappelle Medicee: Tomb of Giuliano di Lorenzo de' Medici with Night and Day and Tomb of Lorenzo di Piero de' Medici with Dusk and Dawn
On my final day in Florence, after seeing hundreds of paintings, sculptures, and architectural wonders of the bejeweled city on the river Arno, my very last stop was at the Medici Chapel, where I stood with a handful of visitors to take in the sight of two tombs designed and executed in marble by Michelangelo. One set of sculptures depicts Giuliano, Duke of Nemours (and a brother of Pope Leo X) flanked by reclining statues of Day, in the guise of a strapping man, and Night, depicted as a sleeping woman. The other is the tomb of the Duke of Urbino, Leo's nephew. The Duke's pose is thoughtful and pensive as he sits with Dawn on his right and Dusk on his left. All of the figures in the room led me to a state of bewildered, confused meditation. The gestures and bodily postures of both deceased men, as well as their distant facial expressions, led me into serious thought and an odd, quiet sadness. They came across as holding an internal, desperate gravitas, tinged with the mournful aspect one finds in ancient Greek and Roman funerary steles and sculptures. The four reclining mythological figures appeared in my mind's eye as a mirror of the deepest religious, spiritual, and philosophical state that embodied the soul and genius of Michelangelo. These figures are beyond allegory. I stood in the Chapel for a very long time, dumbfounded and amazed that an artist's inner being could reach so profoundly and harshly into such deep and dark territories unknown in his time – and to this very day.