An interview with famed vocalist and vocal coach Dorian Holley (Part One of Two)
By Bernie Langs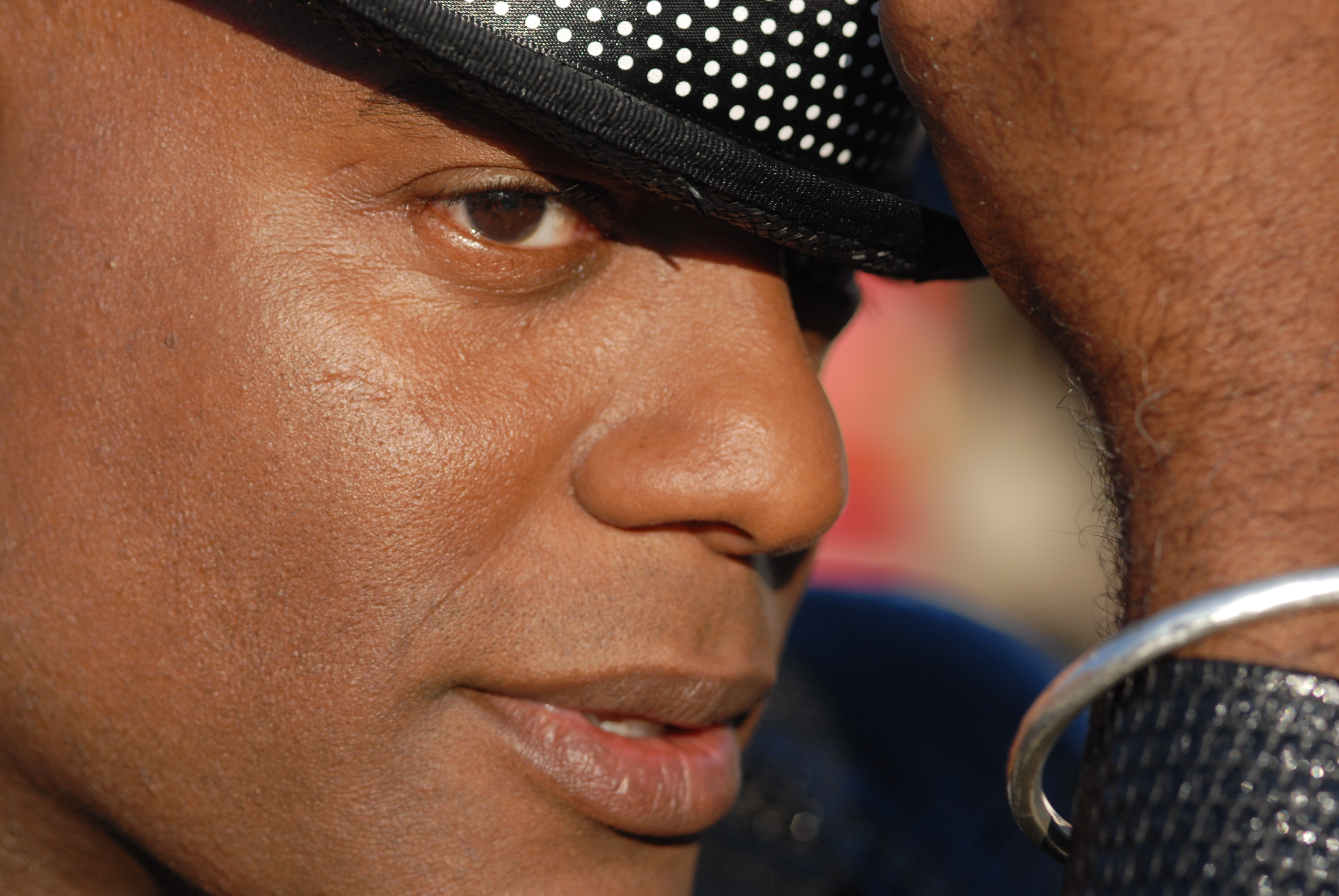 Looking over the resume of Dorian Holley, one marvels at the long list of names of the biggest successes in popular music for whom he has served as a back-up vocalist, background singer, or studio recording partner. He worked, for example, as a featured vocalist for tours by James Taylor and Linda Ronstadt. Rod Stewart had him along for the Vagabond Heart World Tour as did Don Henley (of the Eagles) for his Inside Job World Tour. He has recorded with dozens of artists, including Stevie Wonder, Smokey Robinson, Elton John, Babyface, and Randy Newman. Holley has been the vocal coach and Assistant Musical Director for American Idol on television for almost a decade and was the lead singer for the house band on The Late Show with Jay Leno. He also finds time to work as a vocal instructor at the Los Angeles College of music and teaches performance classes there. But he is perhaps best known for his back-up vocal work with the late King of Pop, Michael Jackson and, in particular, his involvement in the scheduled This Is It performances that would've been held in London, England in 2009 if it weren't for Jackson's untimely death.
Holley is working hard to break out as a solo performer and appears live in the Los Angeles area club scene. His voice is silky smooth, soulful, and his depth of musical knowledge shines through in his melodic phrasing on his recent recorded materials.
I recently sent Holley ten questions about his work. The first five below are general and about his career. The second five focus on This Is It / Michael Jackson and will appear in the February 2015 issue of Natural Selections.
You've had a long career as a supporting and back-up singer with the greats of pop and soul music. How was it stepping out on your own recently?
Before I began earning a living singing, I had my own gospel band. We were very contemporary and fancied ourselves a Christian version of some weird cross between Earth, Wind and Fire and La Belle. We practiced every weekend. In 12 years we probably missed four rehearsals. We were extremely serious, wrote of your own songs and ministered all over California.
When I started working I stopped performing as Dorian Holley and melted into the background behind whomever I worked for. Obviously I had some of the most fantastic gigs on the planet Earth and played before hundreds of thousands of people. But nobody tells you that though you feel like you're out there working your tail off to entertain people, and that you're a part of Jackson's band or Eryka Badu's section or whoever, it isn't really you they're coming to see; it's them. Harsh as it sounds, nobody cares or even knows who I am. It could be anyone up there.
Here's the other dirty little secret. After being away from performing as a solo artist, when you get up there after twenty-some years, it's all new again. And it is terrifying. No matter how long you play behind someone else, when it's you they're looking at, no one can protect you. Consequently, it took me three years to get ahold of performing again. Fortunately for me, I teach performing on the college level, as well. So as an instructor and a performer, the things I teach are always swimming around in my head, especially while I'm onstage. I have to self-correct often and I'm constantly adjusting what I tell young up-and-comers. And I really want to be authentic. I don't want to just deliver theory but I want to honestly relate what works and what doesn't; what's true and what is false onstage. Because if you can't be real when performing, who wants to see that? Certainly not me.
As I listen to your solo recordings, I'm impressed with the clean production and how strong and smooth your voice is. I recalled Quincy Jones. Did you have much input on the production of your album Independent Film?
Hahaha!  I produced my CD, Independent Film. Quincy Jones is a master and I have studied him and listened to him thousands of times and continue to this very day. I love what can be done in the studio and strive to create work that I want to listen to. And certainly reach for the bar that was set at an extremely high level by innovators and trailblazers like Mr. Jones.
Your sound seems very piano-oriented and it suits your confident and complex vocal style. Do you write at the piano and practice on keyboards or do you switch to guitar-based composition?
90 percent of my compositions are written at the piano. Burt Bacharach once said what he writes is limited to the level of his piano playing ability. I believe this to be true. When I am composing, if I play a passage I've heard before, I will rework it so I am not covering retreaded territory. I absolutely do not want to create something that sounds like something we have heard before. Often I will write a bit, then re-voice the changes. My love for music that goes to unexpected places is a deep, deep well. Listen to any Stevie Wonder composition. He can have a song change keys 6 times in the first verse alone. The trick is to make it sound simple until someone tries to sit down and play it. If music sounds difficult, you've missed the mark, as far as I'm concerned. On the surface it should sound as if anyone could have come up with it. Like it was meant to come out that way.
I did this on the song "Compassion" on my CD. It is lush and complex. I didn't expect people to get it. I wrote this strictly for me. Sometimes I get stuck writing the same changes over and over, though. When this happens, I'll grab a recorder and a Moleskine journal (I love the medium-sized black ones with no lines if you're thinking about me come Christmas) and a thin, black, fine-tipped marker. Then I will sing/write a song; the entire thing, no piano. This way the song can take me anywhere it wants without the limits of my playing or lack thereof. After it is finished I will fit chords to the composition. This little trick helps me write music that doesn't sound like Dorian Holley wrote it. It takes longer. But it's worth it.
Another thing I'll do when I'm not happy with how things are going is to get out a chord book and learn some new changes. I almost always get a song out of doing this. I've read part of the reason The Beatles were such fantastic composers is, they played covers for a zillion years before they started writing. That's some serious study hours. If you learn half of all the songs in The Real Book, you can write anything.
You give off a great positive and soulful vibe in your music. How do you feel about music as a business? Do you ever feel frustrated, despite your success on television and varied concert career?
I wouldn't advise anyone go into the music business. It may be when you stack it against other businesses that competition and percentages of success are the same. But I don't think so. It's an extremely tough business to make a living in. If you are on the road it can easily tear a family apart. Happens all the time. This business promotes an unhealthy attachment to never growing up, and it is so easy to turn into an entitled selfish human being. It supports very few of us over a lifetime. The money, if it comes at all, comes in spurts so you can find yourself making money a few months, then spending it all the next few, then waiting a year for another regular gig.
Sorry to be a downer but that is the reality. The other side of it is the creative rewards, the opportunity to travel, the chance to work with people you revere and [wish to] emulate. It can really be fantastic. Not to mention the chance to teach and pass on a lifetime of experience. The rewards can be crazy fantastic. But no one is ever prepared for it to end. And it will end. And when it does no one is prepared for it. It catches each of us by surprise.
With most careers there is the illusion of security and perhaps some guidance to help one with health and pension. That is the case if you work enough on certain kinds of jobs in music. But if you're like most musicians then your work comes from all over the employment map (if you're lucky). And it is a monumental achievement to save and support yourself over a lifetime. It can be done. But it's easier to be a plumber. And a lot safer. And you can sing while driving to each gig.
I was listening to an interview with Billy Corgan (of the Smashing Pumpkins). Also, I read an interview with Andre Benjamin about how crappy he felt about the last Outcast tour. Add to what I said the fact that it is so extremely difficult for bands to stay together. Nearly impossible, no matter how great they become. Go with me down the list: The Beatles, Led Zeppelin, The Police, Oasis, Guns N' Roses, Outcast, The Eagles, The Commodores, The Supremes, The Jackson 5, The Clash, Rage Against The Machine, ABBA, R.E.M., and this list is 700 miles long.
The music business is very tough. I hate to sound so gloomy and dark and anti-inspirational. But reality is cold. It'll make you weep. I say, do not seek fame in music. Music is an element everyone should have in their life, everyone. Learn an instrument, then find an outlet for your creativity. Play in the music department at church. Create a new form of musical expression for your church. Imagine an entire department of forward-thinking, Indie music in a church where somebody else buys the instruments and equipment including recording equipment. Put together mini- concerts and invite 20 friends over on Saturdays and play in the yard or the living room. Make it a concert pot luck. Do it every weekend or once a month. Grab a guitar and three friends, whip up some covers, and go to a hospital or a shelter, and play for people who are shut in. Bring some good into the world like only music can. Your imagination is the only barrier.
But with people not wanting to buy music anymore; choosing to stream it for free and the horrid state of the music business nowadays and all the other negatives, I would advise a saner path (obviously I am insane).
From the e-mail news I receive about your live performances, it's mostly Los Angeles-based venues where you perform. Have you ever thought of playing an extended gig here in New York?
I would leap at the chance to play New York. We've played Paris and Geneva and Boston and my band and I are soon to play Dubai. But I haven't gotten to do a lot of U.S. gigs. If you have any ideas, I am all ears. Maybe you should get us there?