GEORGE BARANY AND FRIENDS
The three politically themed puzzles that follow come to you from a consortium of progressively-minded friends of Rockefeller alum (1977) George Barany, who is currently on the faculty of the University of Minnesota-Twin Cities.  Prepare to laugh and cry.  For more information, including links to the answers, visit here, here, and here.  More Barany and Friends crosswords can be found here.
Debate and Switch
Across
1. Shack
4. Refused to make one's taxes public, e.g.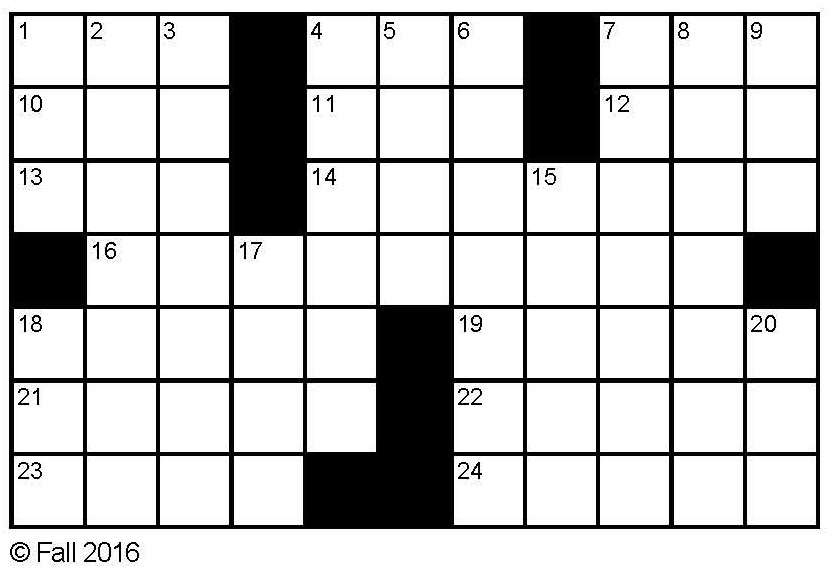 7. Plays a sophomoric prank on, informally
10. Lennon's lady
11. Suffix with Capri
12. Mens ___ (criminal intent, in law)
13. Bee's channel
14. Moving to the beat
16. Field for Krugman
18. Academy head
19. Collapse an arch
21. Wing it
22. U.S. Grant adversary
23. Word frequently used by The Donald, and about The Donald
24. Lock
Down
1. Inappropriate adjective, when applied to one's teenage daughter
2. One fine day, to Puccini
3. Proportional
4. Schmooze with the elite
5. Hughes poem reprinted on a full page in "The New
York Times" (September 22, 2016)
6. Literally, with 7-Down. catch-phrase introduced by Hillary at Hofstra
7. See 6-Down
8. Pascal collection
9. Grp. once headed by Ronald Reagan
15. One who mopes
17. Big name in elevators
18. Hang (around with)
20. "___ we can"
What Happened in Vegas?
Across
1. Escalante who inspired "Stand and Deliver"
6. Muslim leader
10. Ancient Mexican
11. Like the first 44 US Presidents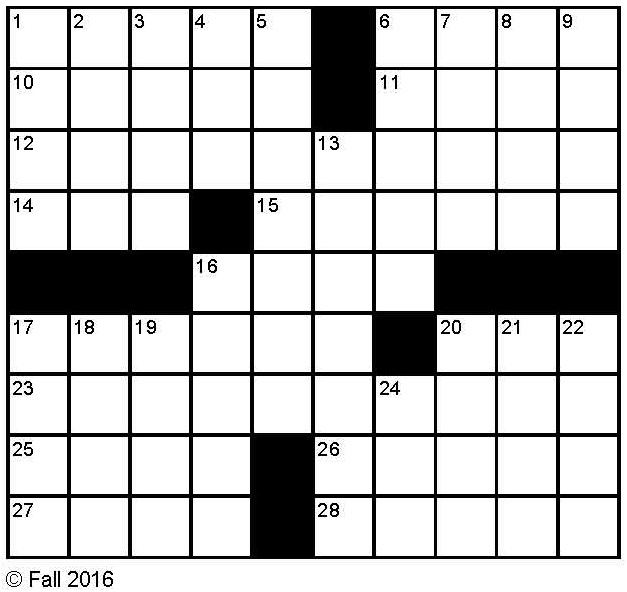 12. Deportation targets?
14. Bro, for one
15. Sickened feeling
16. Got up
17. Punctual
20. "Bingo!"
23. Hillary, to Donald
25. "L'___ c'est moi" (Louis XIV)
26. Rip from the mother's womb, rhetorically
27. Type of details
28. Goes high
Down
1. Campaign issue
2. Jai ___
3. With .com, web site for cinephiles
4. Verbal shrug
5. Campaign issue
6. Saturate
7. Opportunity visited it
8. On the quiet side
9. Large butte
13. Attack bigly
16. Quick with quips
17. What a Jewish astronaut celebrates returning to
18. Defense alliance in the news: Abbr.
19. Russian autocrat
20. "Famous" cookie maker
21. Fabled loser
22. Formicary denizens
24. Samurai's sash
In a Blue State
Across
1. Enthusiasm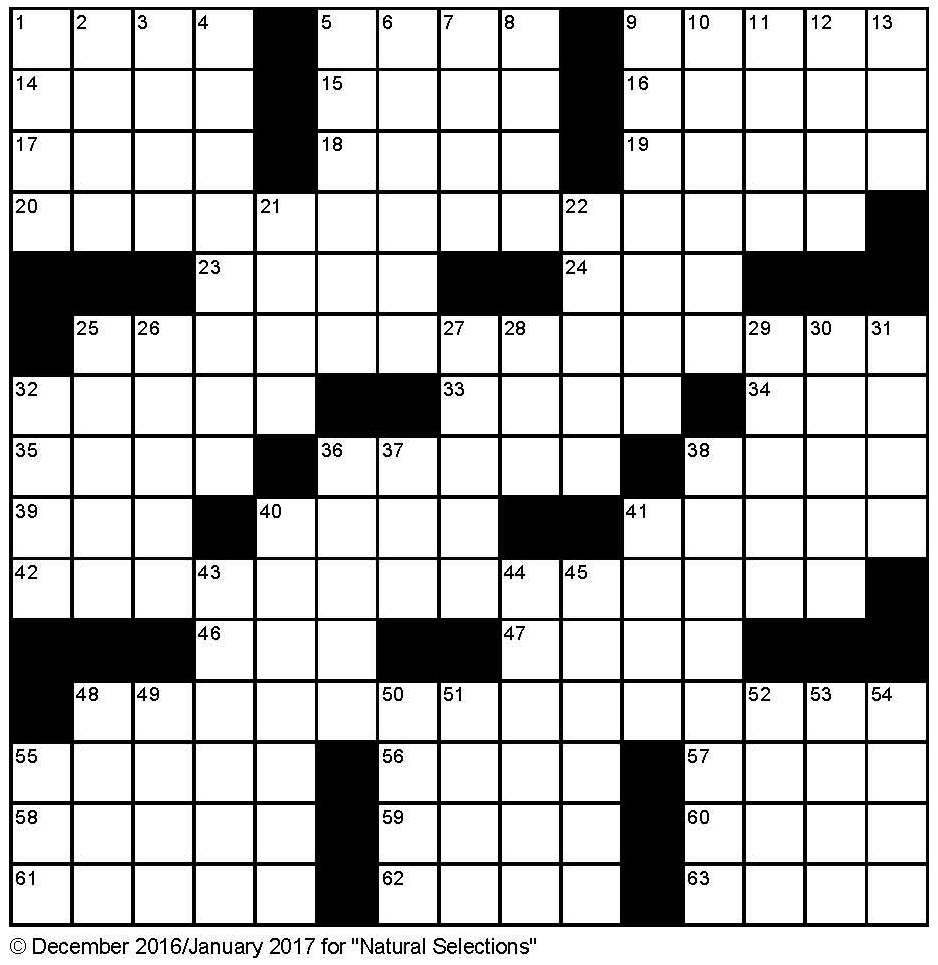 5. Point of view
9. Macho military type
14. Khayyám or Sharif
15. "Goldfinger" fort
16. Certain Alaskan
17. It means everything
18. Like some rumors
19. Composition of a metaphorical ceiling yet to be broken
20. Title for 48-Across on January 20, 2017 … we wish
23. "Star Wars" princess
24. Holiday quaff
25. Bill, to 48-Across … we wish
32. DC VIP
33. Target of Cain's mutiny?
34. Year-round quaff
35. Has ___ with (is connected)
36. Majority leader, ironically?
38. Cultivate
39. NFL six-pointers
40. Piano, to a pianist
41. "Soave sia il vento" and ""Hab mir's gelobt," for two
42. Anthem for 48-Across … we wish
46. Be under par?
47. Palindromic Indian bread
48. One who won the popular vote on November 8, 2016
55. In a musical key
56. Make well
57. Lesbos, e.g.
58. Jeb, to Jenna and Barbara
59. Ultimatum word
60. Hounds
61. "The View" co-host Joy(anagram of REHAB)
62. Parodied
63. Mardi ___
Down
1. Whiz (by)
2. Statue of Liberty poet Lazarus
3. Novelist who was romantically involved with Chopin
4. Dress rehearsal
5. "Let's not go there"
6. Costumed for "La Cage aux Foiles," perhaps
7. He had a cameo in "Wordplay"
8. Donald and Ivana, e.g.
9. Ann or Andy, e.g.
10. Profess without proof
11. Like the Grinch
12. Arrest
13. Tiebreakers, briefly
21. Cluttered condition
22. Hacker's harvest, briefly
25. Henry of "Fail-Safe"
26. Formal "Who's there?" answer
27. "___ in the Balance" (1992 book by Gore)
28. Draft org.?
29. Nobelist Curie
30. Distant
31. A lot of it was fake
32. Way to go
36. Cabbage
37. Frequently, in verse
38. Like the Cheshire cat
40. Ben or Jerry
41. Spicy Asian cuisine
43. "I can't hear you!"
44. Sheathe
45. Matched, as a poker bet
48. Sharpen
49. Creep
50. Big bird
51. Website for customer reviews
52. Russian autocrat
53. Russian name meaning "holy"
54. An "Untouchable"
55. Place to soak