Melissa Jarmel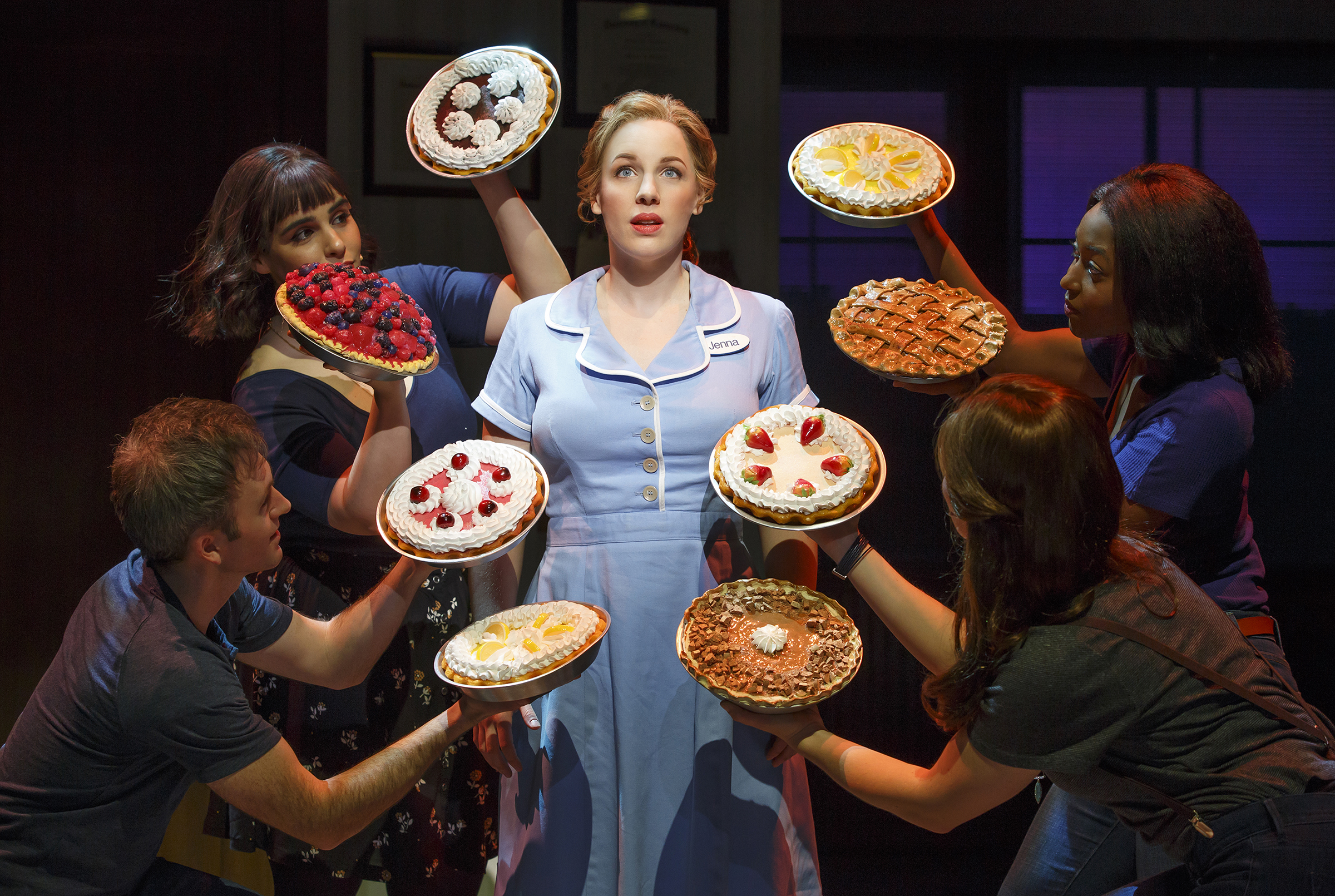 If you can't wait for Thanksgiving to have a slice of pie, you can go down to the diner at the Brooks Atkinson theatre to get yourself a piece of pie in a jar. Waitress has been dishing up jars of pie and slices of musical joy since the spring of 2016. Before every show, pie is baked fresh in the lobby so that you are greeted by the intoxicating smell upon entering to prepare you for the baked goodness ahead.
This movie–turned-musical follows the empowering story of Jenna, a waitress in a small town pie diner who sees baking as a way to escape from her unhappy marriage. I love that a theme of this musical is the excitement and hope of new beginnings, and even more so, that this show has a history of giving actors a chance to make their Broadway debut. This was the first musical that Sara Bareilles wrote the music for and later starred in as Jenna. Katharine McPhee from Smash and American Idol also made her Broadway debut in this role, as well as Nicolette Robinson from The Affair. Katie Lowes from Scandal made her Broadway debut in this show as Jenna's friend and coworker, Dawn, as did Kimiko Glenn from Orange is the New Black. In addition to giving many women their Broadway debut, Waitress also made history by having the first all-female creative team for a Broadway show. Some guys have also had their first chance to be on the Great White Way in Waitress: Jason Mraz had his Broadway debut as the doctor in this musical, and the latest celebrity addition is Al Roker in the role of Joe, an older man who owns the pie diner.
Celebrities aside, the talent runs deep in this cast and the music will bring you joy for days to come with Bareilles' earworms. But Robinson and Roker announced that they will be extending their run at Waitress until November 18, so you still have time to see them in action and enjoy some pie in a jar before the holidays (you won't regret getting the salted caramel chocolate).
You also won't regret going to see Waitress this month because you will have the opportunity to help Waitress win a competition against the other shows. It's not for a Tony, but it's extremely valuable; twice a year an organization called Broadway Cares/Equity Fights AIDS hosts a friendly competition between the shows to see who can inspire their audiences to donate the most, often with a brief auction for signed memorabilia held directly after the show. In the organization's own words from their website, they help "men, women and children across the country and across the street receive lifesaving medications, health care, nutritious meals, counseling and emergency financial assistance." They are one of my favorite places to donate money to because I have full confidence that it will be used well to support individuals in the arts community when they need it most. So enjoy some pie, help some artists, and have a great start to the holiday season!
Discount tickets available:
– $40 Day-Of Rush at the Box Office
– Day-Of TKTS booth in Times Square
– Ahead of date with code: http://www.playbill.com/discount/playbill-discount-for-waitress