By George Barany, Christopher Adams, John Child, Charles Flaster, and Brent Hartzell
George Barany is a Rockefeller alum (1977), currently on the faculty of the University of Minnesota–Twin Cities. Christopher Adams is a graduate student at the University of Iowa, John Child runs a business in Nepal, Charles Flaster is a retired school teacher in the Philadelphia area, and Brent Hartzell is the finance director for the City of Allentown, Pennsylvania.  For more about this specific puzzle, including a link to the answer, click here. Also, try more Barany and Friends crossword puzzles.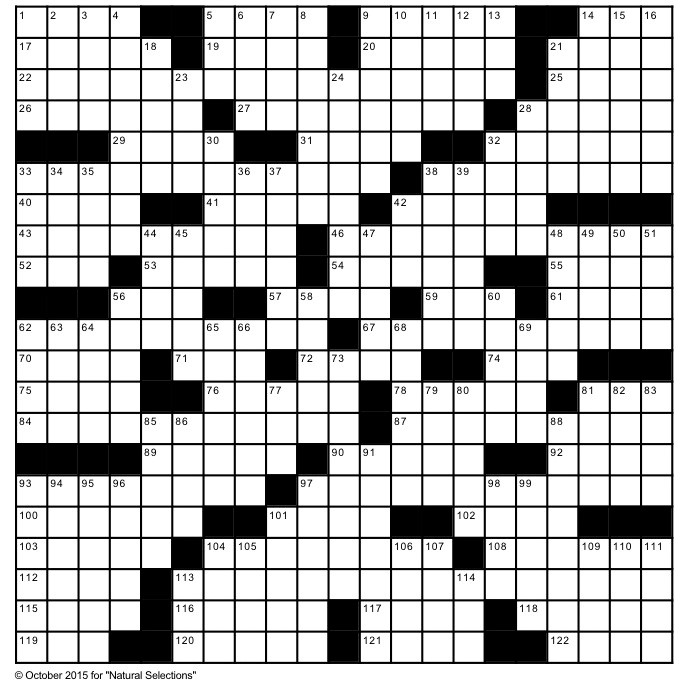 Across
One of the "Three Bs"
One who crosses a line
Go-to ballplayers, colloquially
"Bull Durham" transportation
Like Citi Field when 122-Across's Yoenis Céspedes goes deep
End of a palindrome about Napoleon's exile
Bagel, e.g.
Lady's man, briefly
122-Across's ace Matt's favorite drink?
Pitcher with a big mouth?
From 1962-1987, spring training site for the 122-Across, informally
Potpourri
Aida or Spartacus, e.g.
Berberian and Parseghian
Marine killer
Nighttime ball, perhaps
Out in left field, to 122-Across's rookie phenom Michael?
One to the left of the curve?
What 122-Across's pitcher Niese has, that his teammate Colón does not?
Glandular opening?
The "f" in f-stop
Site of the 2014 season opener (Dodgers vs. Diamondbacks)
Paraphernalia for 122-Across's third sacker David?
"Saving Private Ryan" landing craft: Abbr.
Steve of "Family Matters"
Categorize
Like some traditions
Org. that let Barry Bonds walk in 2015
Bologna bones
Agcy. spawned by the Manhattan Project
Figure of interest?
Something used by 122-Across's manager Collins to wipe the sweat off his face?
"Steal a base when nobody's looking," according to 122-Across's sudden slugger Daniel?
"___ bit of common sense"
Airline's home base
Athena's breastplate: Var.
Classified ad abbr.
Dodge Viper engine, e.g.
___ great catch (dazzle the fans)
Suburb of Minneapolis-St. Paul (crossword constructor Tom Pepper is its Finance Director)
Abbr. with a ring to it?
Roll out the red carpet for 122-Across's rookie southpaw Steven?
Plea made with one's hands up
Desi of Desilu
Jordanian World Heritage site
Scatter?
Strengthen
What 122-Across's ace DeGrom uses to get high?
Roman romances
Dry, like Spanish wine
One driving in the winning run, e.g.
Worked undercover
Winter Olympics event
Single-celled microorganisms
10-point Q, e.g.
Cry of recognition when 122-Across's closer Jeurys starts to warm up?
" ___ Tu" (1974 hit)
Beatles in Shea Stadium, e.g.
Fastball down the middle, e.g.
Colorado resort
Part of 122-Across's rookie phenom Syndergaard's routine
Milton Berle sidekick Arnold ___
Sources of taxol
Miracle team, once (and perhaps twice!)
Down
Dickensian cries
Smell ___ (be suspicious)
Citi follower, through 1998
Go ballistic
Make a baseball seam
Hardly a blabbermouth
Start of a palindrome about Napoleon's exile
Swell up, like ERAs for ineffective relievers
Position, for Cruz or Thomas
South Seas kingdom
Exhort
Something often paid in the minor leagues
Ukraine or Belarus, once: Abbr.
Ides of March word
Inconsistent
Easy, for one
Back in?
Very cold
1969 or 1986, e.g.
Medium-sized nocturnal raptors
Mephistophelean merchandise
Pursue prey
Ballpark figure?
Stocking stuffer, perhaps
Millstone
Where eagles care?
Drooling dog in "Garfield"
Many a 122-Across fan, some might say
Makeshift bookmark
It's a drag
Myth statement?
Like Dorothy's slippers
"If I Were ___ Man" ("Fiddler" tune)
"For Love of the Game" director Sam
Statue with limitations
Caspian feeder
___ Morgana
Left the coop?
100 centimes, in pre-euro days
Common sight on Banner Day
Throw a spitter, e.g.
S___X
Spanish direction
Rod's companion
Light units
Sasha and Malia
Familiar with
Cravings
Dish best served cold
Matsui who was the first Japanese infielder in the major leagues, to 122-Across's fans
"You've got two choices"
Grind together
Penicillin producer
Alexander, to Reagan
The face of the franchise, invariably
Rowed one's boat ashore
Mil. field rations
Devotion to pleasure
Green science
Dresses down… or butters up?
Don Denkinger, Jim Joyce, or Bill Klem
Flushing site?
Shady sorts?
Globetrotter's malaise
"Champagne Tony" of golf
Bouquet
"Nights in White ___" (1967 hit)
Rice in Nepal
Suffix denoting a collection
"___ From Muskogee" (1969 hit)
"I wouldn't click on this link from your office," initially
Mont Blanc, par exemple
Losing proposition?
Lacking
Band-Aid and Barbie, e.g.: Abbr.
Sumter and McHenry: Abbr.