By Susan Russo
Based on a personal story from his granddaughter and the website www.luisada.com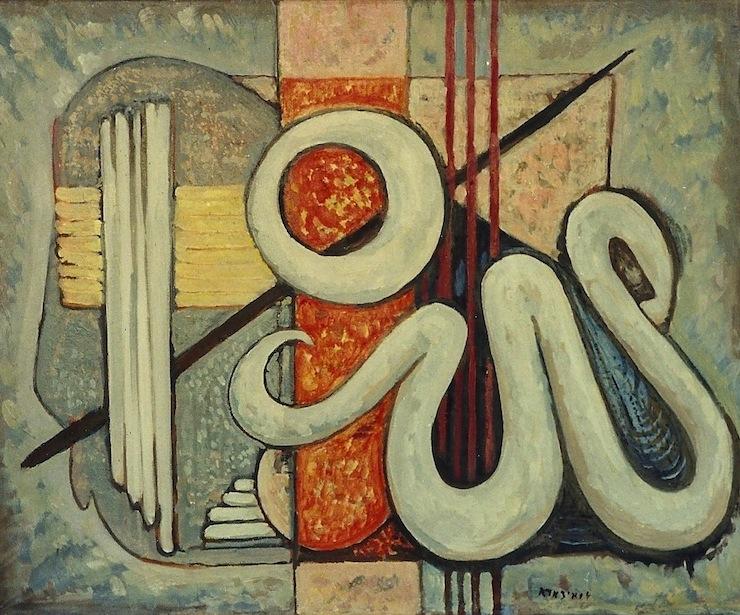 Avigdor Renzo Luisada was born in Florence, Italy, in 1905, third son of a secular Jewish family. His father was a prominent doctor and his older brother became a cardiologist in the United States. Luisada's grandfather was an Italian painter, musician, and photographer, who told seven-year-old Avigdor, "Don't be a painter! This is a hard life…" After high school, Avigdor served in the Alpinist unit of the army. On his discharge, at the insistence of his father, he studied engineering at university, but soon left for the Academy of Fine Arts of Florence.
In 1929, Luisada moved to Rome, continuing art studies at the Academia di San Luca, where he received a drawing award in 1931. Returning to Florence, he supported himself by illustrating children's books, but continued his painting. He met his future wife, Paula Malvano, in Florence. After their marriage in 1933, the couple moved to Milan, where Luisada's paintings were soon exhibited throughout Italy. In 1936 he was first invited to present his work at the Venice Biennale.
During the ominous rise of Hitler in Germany, members of the Northern Italian Jewish community formed an illegal organization, the Delegation for the Assistance of Jewish Emigrants, for the difficult move to Israel. Avigdor Luisada was elected as the organization's secretary, and later became president of the Milan chapter. During this time his daughters Daphna and Dina were born.
In September of 1939, Luisada and his family left for Israel on the last boat out of Trieste. In Israel, the Luisada family joined with other Italians to form a communal village (called a "moshav"), in the Sharon region, naming it Tel-Dan (after a respected Italian Zionist, Dante Lattes.) As farming was a struggle, Avigdor started teaching painting in regional elementary schools, continued illustrating children's books, and drew images for magic lanterns.
After the war, Luisada and his family visited Italy to see relatives who had stayed there, and to meet with their artist friends. In 1947, they moved to Tel Aviv, where Luisada taught painting and art history at the Art Teachers Seminar and lectured at museums throughout Israel. His first solo exhibition was at the Katz Gallery in Tel Aviv. In 1948, with the assistance of Yossef Zaritsky, Luisada and his fellow artists mounted an Israeli group exhibition at the Venice Biennale. Members of this group created the beginning of a modern art movement called Ofakim Hadashim ("New Horizons").
In 1955, to be closer to relatives and other friends who had moved from Italy, the family moved to Ramat-Gan. Luisada continued painting and drawing in a studio near their new home. Then, in 1972, Luisada and his wife spent a year in Paris, where he had a solo exhibit in the Espace Gallery.
In 1970, the Italian government awarded Avigdor Renzo Luisada the Chivalry Medal, and the Ministry of Culture and Education in Israel presented him with a Lifetime Achievement Award. In 1982, he was awarded the Dizengoff Prize for Painting and Sculpture from the Municipality of Tel Aviv.
Avigdor Luisada's paintings and drawings have been on display in museums and institutions throughout Israel, in the Galleria Civica d'Arte Moderna, Torino, Italy, and in exhibits in Montreal, New York, San Paola, Brazil, and Frankfurt, Germany.
In 1972, Luisada suffered a heart attack, which left him partially paralyzed, but he continued to work in his studio. Avigdor Renzo Luisada passed away at the age of 82, leaving a memorable legacy for his family, friends and his life in art.