By George Barany, Charles Flaster, and Brent Hartzell
Introduction: George Barany is a Rockefeller alum (1977) currently on the faculty at the University of Minnesota—Twin Cities; Charles Flaster is a retired school teacher now living in Atlantic City; Brent Hartzell holds a master's degree from the University of Minnesota and works in the areas of public policy analysis and government budgeting. GB wishes to note that during his nine years at The Rockefeller University (1971-1980), the remarkable event highlighted in this puzzle occurred three times. Nobody expected a 37 year gap until the next such event!
For more about this specific puzzle, including a link to the answer, visit http://tinyurl.com/horsefeathersNSpuz. More Barany and Friends crosswords are at http://tinyurl.com/gbpuzzle.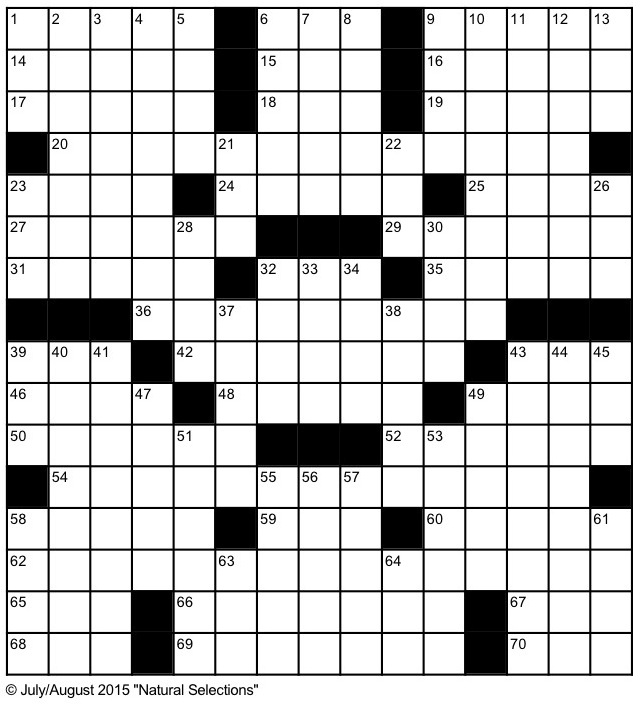 Across
1. Common ingredient in a chaud-froid
6. Org. that sent Stephen Colbert to Iraq in 2009
9. Trades, or 1955 winner of 20-Across
14. Groucho's brother
15. Admission requirements, informally
16. They're famous in Canton and Cooperstown
17. Judaism : kosher :: Islam : ___
18. Réunion, for one
19. Dickens' Heep
20. First jewel
23. One of "The Addams Family," informally
24. Check endorser
25. "May ___ why?"
27. Vinegar vessels
29. Yogi's pal
31. Canada's arboreal emblem, or jockey Eddie who won 54-Across twice and rode Secretariat in his last race
32. Brady's measure: Abbr.
35. Ahmadinejad, e.g.
36. Second jewel
39. Pin cushion?
42. It may be definite or genuine
43. Like some keys: Abbr.
46. Kazan who directed "On the Waterfront"
48. Very, to Verdi
49. Actress Kunis
50. Great Dane
52. How some meds are taken54. Third jewel
58. Dance related to a horse's gait
59. Bigfoot's shoe width?
60. Cabinet units: Abbr.
62. Twelfth winner of U.S. thoroughbred
racing's Triple Crown
65. Fastball, in slang
66. One with a lot of hits
67. ___-Puf
68. T or F: Abbr.
69. Ratifies (obsolete)
70. Chairman pro ___

Down
1. Rhine whine?
2. In July 2014, she became the first person
to reach 100 million followers on Facebook
3. Makes a stack
4. Good Samaritan's assurance
5. Secretariat in 1973 or 62-Across in 2015
6. Blue Sox home
7. Like a jockey's attire, perhaps
8. Daisy also called a marguerite
9. Elisabeth or Andrew, acting siblings
10. Team blessed with Curry's favors?
11. Noted password user
12. Continues, as a band
13. Safe networking protocol
21. Corp. whose nickname matches the name of the 20-Across and 36-Across winner
in 2008
22. Girl having a ball?
23. Cable channel whose first broadcast was "Gone With the Wind"
26. Japanese garden pond denizen
28. Trillion: Prefix
30. River to the Seine
32. Brady's bunch
33. Equipment for Vonn
34. Ancient Andean
37. Poet's Muse
38. Writer George
39. Verbal shrug
40. Mobile one?
41. Without a watch?
43. Marker encountered four furlongs into
54-Across
44. Like top high school athletes
45. Saturday Night Live's 62-Across?!
47. ___ nothing (betting option)
49. Manufacturer
51. It "struck back" in a 1980 film
53. Control tower devices
55. Some tides
56. Past, present, or future
57. Seven: Prefix
58. "Poker Face" singer Lady ___
61. Make-believe, or runner-up to Secretariat in two Triple Crown races
63. It may be kicked down the road, metaphorically
64. Shakespearean or theatrical Prince